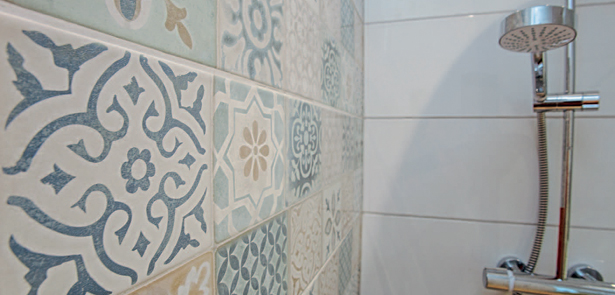 Bathrooms needn't be purely functional, they can be spaces of great beauty too, as Darren Green, owner of Attica Bespoke tells us
To what are the hot design trends for bathrooms in 2020? Well, this seems to be the year for bold trends and fluid styles. Niche, one-off and limited edition fittings and tiles are giving customers and clients the chance to make a bold impression in their home. Subtle changes to the norm are increasing the wow factor. Play with your measurements, imagine what if, and sketch out your ideas. Don't be afraid! Feature tiles will define a wall or space of interest, and the use of contrasting colours is a must if you want to break the mould. Of course, you can still opt for the classic clean and clinical finish to create a space that is the envy of the neighbourhood. Use large-format grey or white tiles with deep marble veins to accentuate your space.
Alternatively try small, bold and quirky tiles with geometric styles including stripes and hexagons – it's really up to you. Large format offers the advantage of fewer grout lines, making it ideal for wet rooms. The Baked Tile Company (www.bakedtiles.co.uk) offers some really stunning designs. Brushed metal taps and shower valves, including rose gold, copper and matt black are here to stay. Wall-hung vanity units with quirky storage solutions are giving us more space to play with, or the illusion of more space. Use luxurious textures to awaken the senses and create an elegant ambiance. Check out our friends at Pirovano Bagni (www.pirovanobagni.it) for some show-stopping units. Our favourite themes include Desert Tones like terracotta and rust, Natural Mint with tech neon and soft shades, and Pure Stone, which expresses a simplicity and beauty that is subtle yet lustrous.
We continue to see customers choosing to remove baths in favour of a walk-in shower or tiled wet room, giving an abundance of space to play with and allowing the design to push boundaries. The ease of linear tiled drains keeps the floor space clean and clear of visual clutter. Slim shower trays also aid access. At Attica Bespoke we are a big fan of glass and recommend incorporating it where you can. Go Glass (www.goglass.co.uk) offers options for bathrooms and shower rooms, with glass available in any size shape or form, including etched, sandblasted or backlit with LEDs. The secret behind any successful project is to work closely with your designer or tradesmen. We are fortunate to have a great team who take pride in their work and complete projects to the highest standard. Our very talented photographer (Gemma Hill Photography) ensures we don't have to resort to stock photos for any of our advertising – so the stunning pictures you see are real projects completed by us!
Attica Bespoke Feeling inspired for your next project? Then get in touch! Visit www.attica.uk.com or pick up the phone on 01733 639063.
Leave a Reply