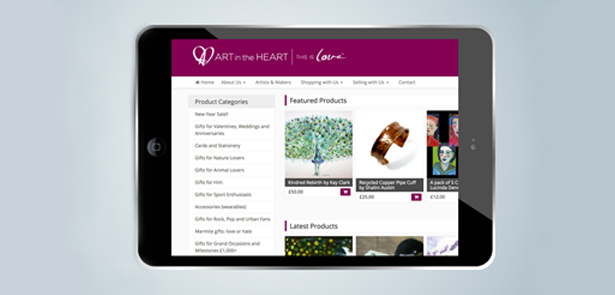 It's one thing delighting Peterborough residents and visitors with our one off gallery and gift shop now based in the very chic Westgate Arcade just off Queensgate Shopping Centre, it's another to communicate that magic from an online shop, explains owner Dawn Birch-James
Last October 2016 we launched our online shop from which UK artists and makers can sell. It is called The Art in the Heart Marketplace at www.artintheheart.co.uk/marketplace. We have so far attracted 15 or more of our own artists and makers to create their very own storefronts, where you can shop for one off, unique treasures often at amazing price points. And another 10 to join soon!
If you have been into our city centre gallery and gift shop, you will not be disappointed when you browse our online offer. I personally vet every UK artist or maker who wants to sell on the site. To qualify, they need to have superb quality, beautiful pieces or products which are totally synonymous with the Art in the Heart brand, and they have to be committed to selling and giving good customer service.
As a shopper we want you to feel connected to the artist and maker in their studio, workshop or workspace so you can ask them a question directly. Finally, as we get more and more artists and makers on board and more sales, we want to support art projects in our local communities here at our base in Peterborough.
Here is just a taste of what we are selling on our online shop www.artintheheart.co.uk/marketplace
Image: www.freepik.com/free-vector/realistic-tablet_785542
Leave a Reply