ABAX recruits to Peterborough team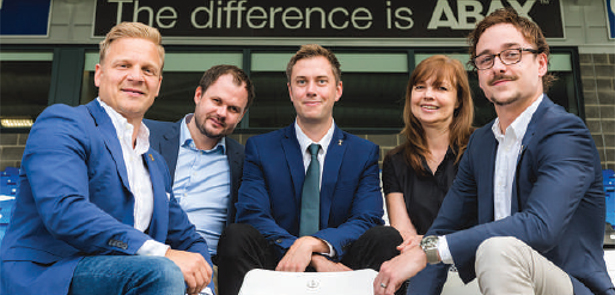 A wave of new recruits in Peterborough will help forward-thinking vehicle technology company ABAX to continue its growth in the UK
The enthusiastic atmosphere in ABAX's Peterborough office will be similar to that of a new term this autumn, as more than 30 people join the current team. The company has expanded its UK workforce to support ongoing growth in the UK and the rollout of an innovative new product. ABAX has operated in the UK since 2012 and now employs over 70 people at the Allia Business Centre, based at the ABAX Stadium on London Road.
In today's world of the Internet of Things, as a developer and supplier of progressive vehicle tracking systems, fleet management software and equipment control technology, ABAX are problem solvers for everyone using vehicles at work. The company customer base covers fleets of cars and vans for a wide range of industries including electrical engineering and communications infrastructure. In five years, the company has grown into a recognised name and prominent employer of people from the Peterborough area, in particular giving people their first avenue into full-time employment.
The new team members will fill the roles of in-house sales executives, partnership managers, field sales managers and customer account managers. The recruitment follows the recent announcement that Investcorp, a leading provider and manager of alternative investment products, completed the transaction of ABAX for approximately £165m. ABAX also operates in Norway, Sweden, Denmark, Poland, Finland, the Netherlands and China and Investcorp plans to support ABAX's international growth, further expanding its customer base into new geographies as telematics solutions become increasingly relevant in the automotive industry.
Chris Miller, ABAX UK Chief Executive, said: 'ABAX more than doubled its UK sales results for the fifth consecutive year in 2016 and this included our biggest UK contract to date. 'Investcorp has allowed us to extend the UK team and recruitment went well over the summer. 'Peterborough remains the heart of ABAX's operations in the UK and we are building a strong team who complement each other's talents to allow us to extend our sales footprint across the UK not least as we will be launching new products to the market. This will allow us to reinforce our prominence in delivering cost-effective, progressive technologies for vehicle fleets.'
The latest product is the ABAX Worker. This is a paperless project management solution developed using the innovative software technology. It provides instant management of information and documentation, keeping project managers and employees up to date in real-time. It will sit well alongside the ABAX Triplog technology which continues to provide efficiency to clients and customers who report an average reduction of 20% in their fuel bill.
To sharpen its competitive edge in one of the fastest growing markets in the world, ABAX has based its business model on three essential elements: People, Technology and Products. People are key to success and ABAX dedicates significant time and resource into supporting its members of staff so they are engaged and motivated. In the most recent employee satisfaction survey, almost 9 in 10 of employees said they feel proud to work for ABAX and 81% said they would recommend ABAX as an employer.
ABAX supports the local community too, and has a valued five year partnership with Peterborough United Football Club which started in 2014. Ambitions for future growth remain high and this latest wave of new recruits will be the ones to help the existing team to drive the company forward.
Leave a Reply