Beacon – visual arts in St John's Church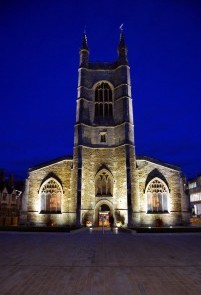 Fri 16th December 2011 7:00 pm - 10:00 pm
Beacon – visual arts in St John's Church
Beacon is an evening of Improvised Electronic Music, Photography and Film brought to you by visual arts specilaists Hradesin.
The first event of it's kind in Peterborough, Beacon will use the incredibly beautiful 14th Century architecture of St. Johns Church as a stunning backdrop to an exciting visual arts extravaganza!
Attendees can look forward to multi-media installations that encompass music, film and photography with an emphasis on collaboration & improvisation. The music will be contemporary electronica, using a variety of instruments and electronic devices along side a performance of a baroque recital. The projections will be both analogue and digital, with improvised visuals being conducted by visual artist Luke Payn and with photography & video by Robert White, photography by Nathan Wieckowski & the work of "NO! Art photography of the fens " group -an online photographers collaboration group on Facebook. The church will be lit up with projections onto the church walls and special screens.
The event schedule is as follows:
7pm – Doors open – warm up & sound checks- with an improvised session performance
8pm-9pm – Intercalaris performance with Luke Payn
9-9:15pm – Interval
9:15pm – Hradesin / KMPB / Hradesin
To find out more visit http://hradesin.org
Leave a Reply