Children's Tour: Historic Duxford
Sat 30th March 2013 -Fri 31st May 2013
Our first tour specifically for children celebrates the opening of our new permanent exhibition, Historic Duxford.
Hold onto your hats as we take a flying visit through IWM Duxford's history. Our Time Commander will take you on a journey through time to meet characters from IWM Duxford's eventful past.
Look out for First World War bombs, see amazing aerobatic aeroplanes and bravely undergo training with the accident-prone Flying Training School. Put on your thinking caps and match up our mystery objects with their Second World War owners. Meet our American allies and cut a rug with the jitterbug.
Children's Tour: Historic Duxford runs for approximately 90 minutes. The tour is limited to 25 children and adults attend the tour free of charge. The tour is suitable for children of all ages but is aimed primarily at children between the ages of six and ten
The Children's Tour: Historic Duxford takes place on Saturday 30 March, Sunday 31 March (Easter Sunday), Monday 27 May, Tuesday 28 May, Thursday 30 May and Friday 31 May. The Children's Tour: Historic Duxford starts at 11am in the foyer of AirSpace.
The ticket price for attending children is £5.10. Advance booking is essential for attending children. Children must be accompanied by an adult. Adults supervising children must pay entry to the museum.
To book a place, please call IWM Duxford on 01223 499 353.
Find out more
View All Events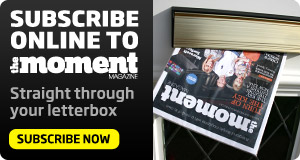 The story revolves around United Nations employee Gerry Lane (Brad Pitt), who traverses the.. Continue Reading

A young boy learns that he has extraordinary powers and is not of this.. Continue Reading

Leonato (Clark Gregg), the governor of Messina, is visited by his friend Don Pedro.. Continue Reading

Who is your style icon and why? This is going to sound so obvious.. Continue Reading

The show includes loads of fascinating facts about how Peterborough changed beyond recognition between.. Continue Reading

This is sensational bread. It originates from Genzano, a little town outside of Rome,.. Continue Reading
@momentmag
Follow us on Twitter