SPIRIT OF IMAGINATION – Feb 1 to Feb 29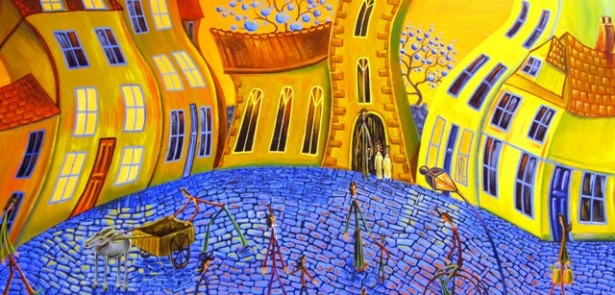 The Gallery Peterborough is pleased to announce a solo exhibition by Lincolnshire artist Beck Cowan
1st February to 29th February
Beck's works mainly in the medium of Oil on Canvas and her inspiration comes direct from her children and her own vivid imagination; which can be during the day or at night in the form of dreams.
Beck describes the images, often warped in strikingly bright and intense colour, which she then transfers onto canvas. She often experiences hundreds of images in any one night, which can result in her feeling exhausted when she wakes in the morning.
Her children are also a great inspiration and provide her with creative material with their wild imaginations, of pixies, ghost's monsters and aliens.
During the day her creative and imaginative part of her mind is always alert and she can instantly become aware of a particular aspect of a character, animal or situation, or sometimes images can be identified in everyday objects, for example, a face from the pattern in a pair of curtains.
The viewer cannot help but be drawn into her paintings as quirky nuances are not always immediately obvious.
When Becks is in her studio she listens to different genres of music whilst she paints which creates the right ambience for her to allow her creativity to flow.
Beck attended Lincoln Art College and then went on to paint backdrops and sets with Lincoln Art Company.
I enjoyed painting and drawing as a child and spent every possible moment in the art room. For me, painting is a way to express emotion and an outlet for an over-active imagination
The Gallery
3 Aston Business Park
Shrewsbury Avenue
Peterborough
PE2 7BF
Private viewings by appointment:
Telephone: 01733 306246
Mobile: 0774 981 5064
Open Wednesday to Saturday 10am-5pm.