Where the Past and Present Gloriously Collide – 23 to 24 June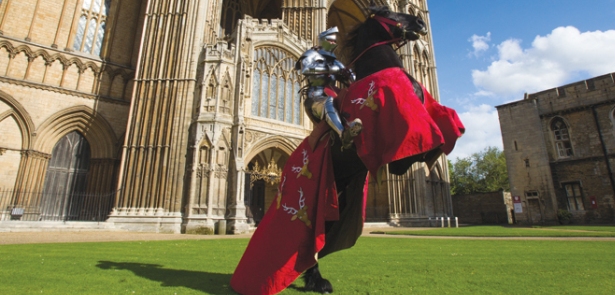 This year's Heritage Festival will be taking over much of the city for over a week during June. And if you think history is a bit dull and boring, a few visits to some of the many fascinating and varied events taking place will be guaranteed to convince you otherwise, believes RICHARD GUNN
If you go down to the cathedral over the weekend of June 23 and 24, you can be sure of a big surprise – a Spitfire parked on the green! But, no, it won't be a daredevil manoeuvre by the Battle of Britain Memorial Flight gone slightly awry but rather one of the centrepieces of this year's Heritage Festival. And it's just one of the many extraordinary attractions happening throughout the city as Peterborough celebrates its rich and diverse past, from the earliest prehistoric settlers right up to (almost) the present day.
This year, the Heritage Festival is larger, better and more packed than ever. Previously part of the all-embracing Peterborough Festival,
it has now become big enough and bold enough in its own right to become a standalone event now
says Stuart Orme, the heritage interpretation manager for Vivacity Culture and Leisure Trust, who is one of the main forces behind the festival. The main weekend of June 23 and 24 in the historic heart of the city will be complimented by a host of supplementary events elsewhere over 13 days, from June 16 to 28. Highlights of 'the fringe' include a historic tour of the Gladstone Street area with residents talking about their experiences, guest talks by historic authors and even a heritage pub quiz.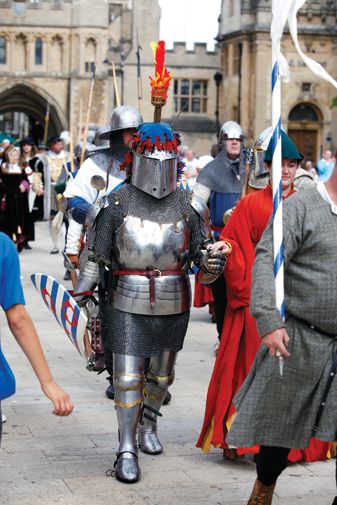 During the main weekend, the city will step back in time with over 300 costumed re-enactors strutting their stuff, arena displays, a medieval market, craft fair, live entertainment, armed forces displays and even a Victorian Travelling Cabinet of Curiosities. Children will be catered for with jesters, storytellers, games and activities, and for adults wanting to delve even deeper into Peterborough's past, the popular guest lecture this year will be from historian and BBC broadcaster Dr Janina Ramirez.
For anyone who has visited one of the heritage celebrations in recent years, the sheer scale of what is happening for 2012 is likely to come as a pleasant and fascinating surprise.
It's grown each year and this time, we've expanded it out, so we obviously have the big weekend event, but also now a programme of other events that tie in with it, so there are many more heritage-themed events all across Peterborough. It's unusual; obviously other cities have their own heritage-themed events, but we are the only large-scale, multi-period heritage event in the country, taking place in a city centre. It's a big commemoration of the huge history that Peterborough has to offer.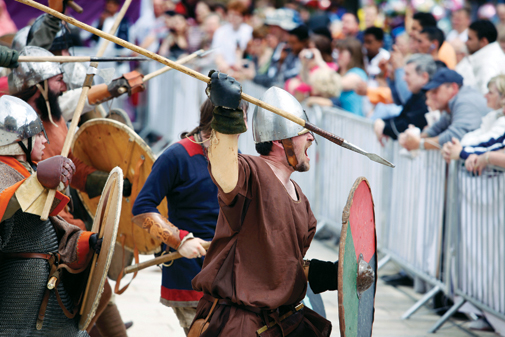 Things kick off on Saturday, June 16, with the special guided walk in the afternoon around the Gladstone Street area, in conjunction with community groups from there. It's something that Stuart seems very proud is beginning the Festival. "Rather than our usual heritage tours, where it's just a tour guide talking about the past, we've got the groups telling you about their stories, their experiences of coming to Peterborough and settling here. It should be a really fascinating insight and obviously provide the opportunity to go into places like the Gurdwara and mosque, which aren't perhaps places that a lot of Peterborough people usually think of going into."
A few days later, on Monday evening, one of today's most successful authors of historical fiction writing, Conn Iggulden, will be talking at the Central Library about his career and recent books Emperor and Conqueror, set during the time of Julius Caesar and the Mongol Khans of Central Asia respectively. Other writers appearing at the Central Library later in the festival programme include Geoffrey Hindley (June 22), who will focus on the history of the Magna Carta, and Tracey Borman (June 30), who has become a familiar face on television and is also the chief executive of the Heritage Education Trust and works part-time for Historic Royal Palaces.

Meet The Thorpes
Longthorpe Tower – newly managed by Vivacity – will host a special open afternoon on the 17, when not only will the building with its historic wall paintings www.themomentmagazine.com/history/illuminating-longthorpe/ be open but there will be the chance to meet Sir Robert Thorpe and his wife, the owners of the tower 700 years ago. You may well notice that Sir Robert bears more than a passing resemblance to Stuart however. He'll also be directly involved with festival specials of some of the guided tours, such as the ghost (June 19) and crime and punishment (June 21) walks. "For the ghost walk, we're actually taking people inside some of the haunted buildings, while for the crime and punishment walk, you can meet the gaoler, the policeman and the prisoner, who will all give very different accounts of the same story."
The 'Big Weekend' will see some of the most high profile events – in fact, if you go anywhere near the city centre on June 23 and 24, it will be impossible to escape a spot of time travel. "Those two days, from 10am to 4pm, we take over the Cathedral precincts, Cathedral Square, St John's Square and Long Causeway – it's a huge area," says Stuart.
There will be an arena on Cathedral Square with displays such as falconry, battle re-enactments, live music, all sorts of things going on there. The cathedral precincts will have a medieval market, alongside a heritage beer tent and, of course, the Spitfire parked on the lawn, so people can go and have their picture taken alongside that.
And if you're wondering quite how an iconic classic fighter aircraft is going to be squeezed through the narrow gated entrance to the cathedral, Stuart has the answer; "Its wings do come off!"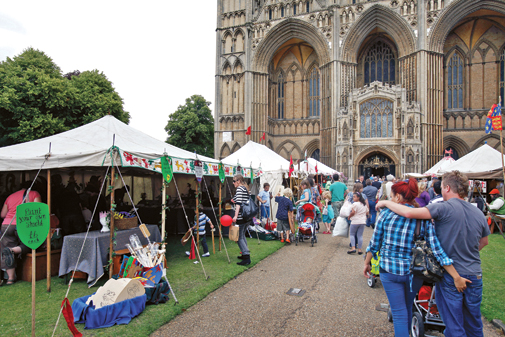 The 19th century-style Travelling Cabinet of Curiosities will feature typical characters from the era, including a palaeontologist who will show off his specimens of fossils and an Egyptologist who will be bringing a mummy with him. The roof of the tent will feature a camera obscura, giving a full 360 degree view of Peterborough. One of the most popular features from previous festivals will make a welcome re-appearance, with living history encampments by the side of the cathedral and in the deanery gardens. Who knows who you might bump into walking around? "There will be everything from Roman soldiers through to World War Two re-enactors, including a wartime tea van from where you can buy cups of tea," says Stuart. "In the cloisters will be a specifically-themed children's area, plus there will be have-a-go archery inside the deanery gardens while down Long Causeway will be a craft fair with lots of locally-made beautiful items for sale. We'll have Armed Forces Day displays going down Church Street and onto St John's Square, so there will be military vehicles from the Territorial Army, British Legion and Help the Heroes." Community groups will also be out in force around the city centre, with displays and live music, while the cathedral itself will also feature talks and exhibitions, including, as part of the current 40 Years On project, the opportunity to rebuild Peterborough in miniature form. And, in what has to be a first for the cathedral, there will even be a fashion show of outfits through the ages. And anyone who has ever watched and loved Horrible Histories on TV will be bound to enjoy The Horrible History of Peterborough, using some of the re-enactors and a script co-written by the very knowledgeable and extremely funny Stuart. "Basically, there are loads of activities going on," is Stuart's view. "It just keeps growing every year, which is brilliant."


The Peterborough Lives Of Medieval Kings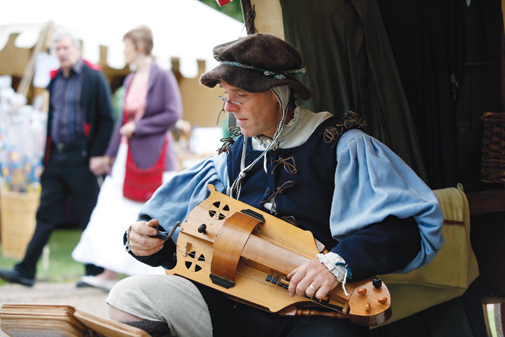 Making a return to Peterborough after her reopening of Longthorpe Tower back in March is Dr Janina Ramirez, who will present the Saturday night lecture in the cathedral. "She was lovely and so brilliant at Longthorpe that we couldn't resist having her back," laughs Stuart. Taking its cue from her recent BBC4 series, Janina's illustrated talk will be on The Private Lives of Medieval Kings, exploring how medieval art and manuscripts reveal the stories behind English royalty from the Anglo Saxons to Henry VIII. She'll look at how manuscripts tell us about how our ancient monarchs ruled, as well as their personal lives and even some early royal scandals. Peterborough's important part in all this will be examined in detail, with many Royals visiting the city in past centuries and the abbey (now the cathedral) being one of the most significant locations for the production of manuscripts, surviving examples of which are among the finest of their kind. Says the Very Reverend Charles Taylor, Dean of Peterborough Cathedral,
Once again we look forward to hosting the Peterborough Heritage Festival, held at St Peter's-tide, in partnership with Vivacity. It's wonderful how this event has grown over the last four years and is now a major annual feature in our city calendar.
Continuing into the following week, there will be behind-the-scenes glimpses into Flag Fen and Peterborough Museum and the chance to explore aspects and areas not usually accessible to the public. On June 26, any new-found local knowledge can be put to good test with a heritage pub quiz at the Brewery Tap. So, if you know your Old Scarlett from your Hugh Candidus or where Robin Hood and Little John are (and what they are as well) – and by the end of this event, you probably will do – then why not get a team of at least three together and enter for a chance to win heritage-themed prizes? And no, you can't invite Stuart to be on your group, as he's helping write the questions.
There will be general historical knowledge rounds, but also be a round specifically relating to the history of the city, so questions on Peterborough people, Peterborough places etc. It's going to be a bit of a laugh, we haven't made it too difficult. It's designed so that anybody can come along and take part. We're encouraging organisations to get involved and participate too.
Things wrap up with the Buildings In Need from 7pm to 9pm on June 28, a free event highlighting this Heritage Lottery-funded project, which has been running in Peterborough since October 2011. Visitors will be able to see the results of the surveys and learn about what makes Peterborough's historic core so valuable.
This is all about celebrating the history of Peterborough – the depth of which isn't always appreciated by the general public – and making it more accessible to local people, as well as hopefully getting more and more of them involved with the festival each year, so that they can feel proud of and celebrate their heritage. This enhances civic pride and makes people feel good about the city. But it's also designed to raise the profile of Peterborough's story, both regionally and hopefully nationally, and bring many more visitors here. Last year, we had close on 24,000 people coming into the city centre, and when they're here, they also have something to eat and drink, go shopping, perhaps some of them even stay over in hotels as well. It has a huge knock-on benefit to the local economy. But there are lots of different things intended to appeal to lots of different people, and we hope that as many as possible will come along and take the opportunity to enjoy themselves right in the city centre at something which is free – and that's not something you get often in this day and age!
To find out more details about everything happening during the Heritage Festival, visit the Vivacity website at www.vivacity-peterborough.com and click the Museums & Heritage tab. Alternatively, keep an eye out for information on display at heritage sites and elsewhere around the city. While most of the core events are free, there will be some charges for happenings such as the author evenings and Dr Janina Ramirez's lecture.
Leave a Reply