Free family Pumpkin Day at Riverford, your local organic farm – 27 October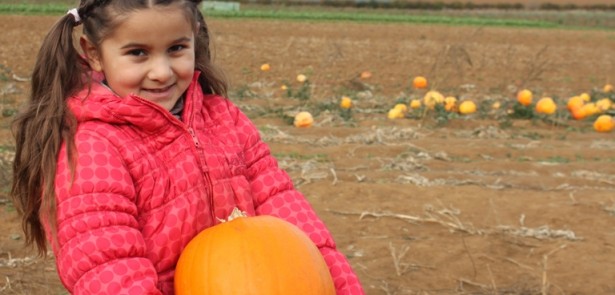 Organic veg box company Riverford is holding a Pumpkin Day on Saturday 27th October between 11am and 4pm on their farm at Sacrewell, just outside Peterborough.
This free event is open to all and will feature a host of fun activities for the whole family to enjoy, including tractor rides, competitions, farm walks, cooking demonstrations, face painting, the chance to make fresh apple juice from scratch, storytelling, and spooky science tricks from Dr D and her assistant Bert the skeleton. A range of delicious seasonal dishes will be on offer, made using Riverford's fresh ingredients, including squash soup (with optional Riverford chilli sauce) and a vegetable tagine with couscous.
It's also a great opportunity to pick your own pumpkin straight from the fields and carve it ready for Halloween.
Jon Day helps to run Riverford's farm at Sacrewell, he explains, "We're really pleased that this year's pumpkin crop has done well, particularly given the difficult conditions all farmers have faced this year.
We're inviting all local people to come to our free Pumpkin Day and find out how our organic farm works and get their very own organic pumpkin to take home. Activities will take place outside in the beautiful countryside surrounding our farm as well as indoors in our box barn, where each week veg boxes are put together ready for delivery to our customers. Whatever the weather, it's set to be a great day."
There is no need to book in advance for Riverford's Pumpkin Day just turn up on the day. Free parking is provided.
To get to Riverford's farm, head to: Sacrewell Lodge Farm, Thornhaugh, Peterborough, PE8 6HJ. For sat-navs the best postcode to use is for the garage opposite the entrance: PE8 6LB. The entrance is the same entrance you would use to visit Sacrewell Farm and Country Centre. Once on the driveway follow the signs for Riverford. For more details telephone 01780 789700 or visit www.riverford.co.uk/sacrewell.
Leave a Reply