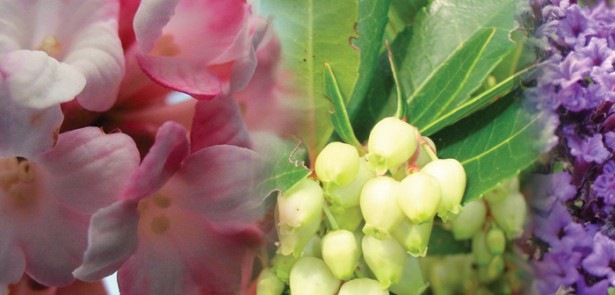 These scented beauties look the part while filling the air with their perfume. Pick a good range of plants to ensure year-round smells.
Arbutus unedo
The evergreen strawberry tree has glossy leaves and attractively peeling bark. The honey-scented flowers are followed by red, strawberry-like fruits. Height: 8m.
Flowers: Autumn.
Cosmos atrosanguineus
Known as the 'chocolate plant', this handsome perennial bears cocoa-brown flowers with an equally chocolatey scent. Height: 75cm.
Flowers: Summer.
Hamamelis mollis
With its spidery yellow blooms and strong, head-turning fragrance, the witch hazel is undoubtedly a highlight of the winter garden. Height: 4m.
Flowers: Winter.
Heliotropium arborescens
A short-lived shrubby plant usually grown as a temptingly cherry-scented annual. Heliotrope flowers are a rich, royal purple. Height: 45cm.
Flowers: Summer.
Lonicera periclymenum
What a deliciously-scented climber! The common honeysuckle makes up for its subtle flowers with its heady fragrance. Height: over 1.5m.
Flowers: Spring/Summer.
Oenothera caespitosa
Every garden should include a few evening primrose. Plant them by open windows to allow the scent to waft indoors – magic! Height: 20cm.
Flowers: Summer.
Sarcococca hookeriana var. humilis
Sweet box is possibly the most deliciously perfumed plant there is. The tiny white blooms have a potent vanilla fragrance. Height: 2m.
Flowers: Winter.
Syringa vulgaris
The handsome heart-shaped leaves of the lilac are topped in spring with a mass of white-pink flowers, all strongly scented. Butterflies love it. Height: up to 7m.
Flowers: Spring
Viburnum x bodnantense 'Dawn'
The pale pink blooms of this pretty shrub are borne on naked stems in the middle of winter. It can flower for months on end. Height: 3m.
Flowers: Winter.
Viola odorata
Wake up the springtime garden with this low-growing perennial. Its delicate blooms are held up on short stems – a fragrance to stoop to discover. Height: 20cm.
Flowers: Winter/Spring.
Early autumn is the ideal time to plant many scented perennials and shrubs
Leave a Reply