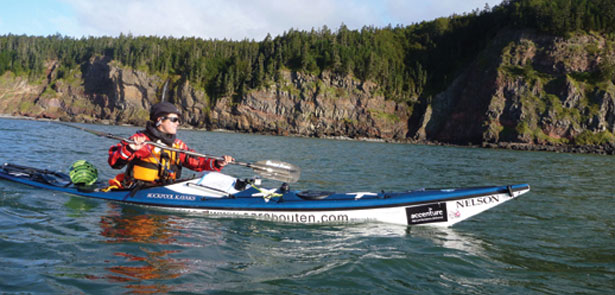 Sarah Outen is a remarkable young woman. She's already rowed across the Indian Ocean; her new challenge will see her complete a continuous loop of the world with only her own power to propel her. We caught up with Stamford's finest to discover what inspires her
When Sarah Outen passes under Tower Bridge in her kayak in the autumn of next year it will mark the culmination of a ground-breaking two-and-a-half year expedition that will have seen the young British adventurer use only human power to complete a continuous loop of the world.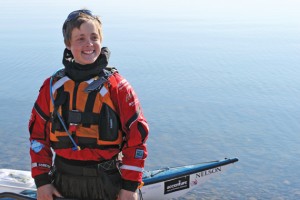 Dubbed 'London2London: Via the World', Sarah set off on the 1st April 2011 from London on a journey that will see her cycle well over 15,000 miles, row solo across 7,500 nautical miles of Ocean and kayak 300 nautical miles. This epic journey will take the former Stamford High School pupil across two Oceans, three continents and 14 countries as well as numerous treacherous waterways. And she is doing the whole thing with no team of experts travelling with her, no entourage carrying her kit, no safety nets – and no second chances.
Sarah grew up in the land-locked county of Rutland, where she still lives in between adventures. She spent her childhood playing sports and seeking out 'Famous Five' style exploits. This modern day 'George', was destined for a life of adventure. She first took up a paddle in Rutland Water aged 12 and an oar in 2004 while a student at Oxford.
I love adventure – the feeling of not quite knowing if or how you will make your destination, of pushing the limits and testing yourself against yourself and the elements. My love of the wild led me to a degree in biology at the University of Oxford and in 2009 took me out to sea on the biggest adventure of my life, rowing solo across the Indian Ocean. It was this 4000 nautical mile row from Australia to Mauritius that inspired me to go on to more journeys
In completing the Indian Ocean row, she became the first woman and youngest person to row solo across this treacherous expanse of water, and at the time the youngest female to row across any ocean. Sarah lost 20kg of weight during the row and raised over £30,000 for arthritis charities, in memory of her late father.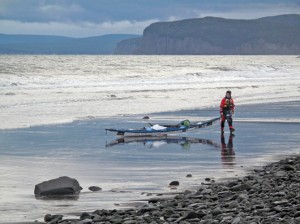 I developed a taste for big expeditions and a yearning for greater challenges," she says. "I wanted an extension, another chapter. It was out on the Indian Ocean that I yearned for more ocean time and started tracing routes across the green bits of the globe too – I wanted to make a huge journey by land and sea that was very much rooted in my home country. And so, London2London: Via the World was born
Sarah set off in her kayak, Nelson, from Tower Bridge, London, paddled a gruelling six hours on, six hours off regime with the tides to reach the Kent coast two days later before paddling through the night across the English Channel to France. Over the next six months she then cycled over 10,000 miles on her bike, Hercules, through France, Belgium, the Netherlands, Germany, the Czech Republic, Poland, Ukraine, Russia, Kazakhstan, China and then back into Russia`s wild Far East. Sarah then used Nelson and Hercules to paddle and cycle over 1,000 miles to Japan via the remote island of Sakhalin.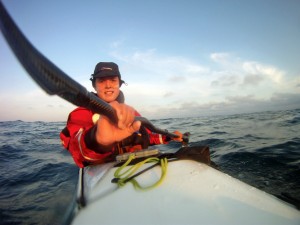 Having overwintered in Japan where she spent time working with schools, volunteering in the tsunami-hit city of Ishinomaki and preparing for the next leg, Sarah is now preparing to embark on the most challenging leg of the whole expedition. Her solo row across 4,500 nautical miles of the North Pacific in her tiny boat Gulliver, is expected to last five to seven months. She will become the first woman ever to row solo across this stretch of water.
She is aiming for the west coast of Vancouver Island. After this record-breaking crossing, she will take up Hercules' saddle again and cycle over 3,700 miles from Vancouver to Nova Scotia through the harsh North American winter. The final major leg will involve Sarah rowing home – across nearly 3,000 nautical miles of the treacherous North Atlantic Ocean.
I love the challenge, the battles, the intimacy with nature and the perspective gained from travelling so close to the water, the landscape, the wildlife. I love the purity of knowing that when you are alone, the immediate responsibility lies on your shoulders and yours alone. I do have a team at home and at certain times some in-location support, but mostly it is just me and my wits. It's a wonderful mix of excitement, fear and unknowns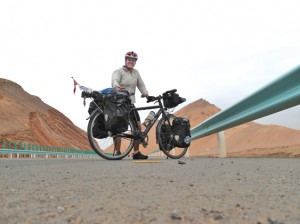 "Even though I journey solo for the most part, it is definitely not just my journey. I love sharing my adventures, especially with children, and hope that it inspires them to look outwards to the world and learn; and to look inwards to themselves and their own dreams and goals. I am journeying for everyone I have met along the way too and for those who have helped me get this far."
One day I will be a teacher, be it in a classroom or not, but for now I am enjoying the opportunities to share my experiences and encourage other people to find and redefine their own boundaries
Sarah Outen: a life in figures
2 solo ocean rows, 7,500 nautical miles
3 continents, 14 countries by bike
300 nautical miles by kayak
6 – 8 000 calories a day
850 days away
14 countries
Up to 11 months at sea alone
A few world records
One little tent
40 punctures so far
10 new tyres
10 new tubes
2 new wheels
2 pairs of shoes
Longest cycle so far: 267km through the night on Sakhalin
Longest kayak: 38 nautical miles in 12 hours between Sakhalin and Japan
Worst roads: Kazakhstan and Russia
Best wildlife spot: Brown bear on the beach in Russia
A few bouts of food poisoning
3 marriage proposals
Thousands of children inspired
 Q&A
What is your background in sport?

I have always been sporty – representing school and county and university teams. I took to the water as a teenager in a kayak and learned to sail. I started rowing while at Oxford University.
 What did you have to do to prepare?
Setting up the expedition was huge – the finance, logistics and team choice were the biggest challenges, and are still ongoing all the time. Mental preparation is the most important aspect I think, although I did spend a lot of time working with specialists at Core Cambridge to condition my body as best I could. I work with a sports psycho-therapist on an ongoing basis to help negotiate problems and think about coping strategies. The mental strain is more demanding than the physical – if your mind breaks, the expedition fails.
Who are the key sponsors?
Title Sponsor: Accenture; Major Sponsors: Mars, Iridium , Ernst & Young
What has been the most challenging bit?
The leg from Russia to Japan was really tough – I was utterly exhausted in mind and body; the logistics were complicated; the terrain was challenging and the leap between bike and boat and back again was mind boggling after so many months on the bike (having just cycled over 10,000 miles). We also had huge pressure for me to keep going without a real break as there were visa issues for my support team in country to help with the logistics.
What are you most looking forward to?
I am so excited to be getting back on the ocean again – I love it out there. The colour, the energy, the wildlife, the challenge.
Leave a Reply