How to make: tuna with cannellini bean and roasted red pepper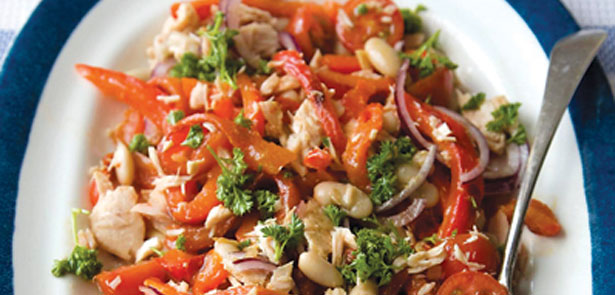 Serves 4
Ingredients
3 red peppers, halved and deseeded
1 x 200g can tuna in oil
1/2 tsp mustard
1/2 tsp honey
1/2 tsp balsamic vinegar
1 red onion, peeled and finely sliced
60g cherry tomatoes, halved
1 x 380g can cannellini beans, drained
A few sprigs of fresh parsley
Method
Place the pepper halves under a hot grill, skin side up, and cook them until they are totally black.
Place them in a bowl and cover with cling film and leave until cool enough to handle.  Peel off the charred skin and slice the peppers.
Drain the oil from the tuna into a bowl and whisk in the mustard, honey and balsamic vinegar to taste.
Using a fork, break up the tuna and place onto a platter.  Add the strips of red pepper, drained cannellini beans, red onion and cherry tomatoes.
Pour over the dressing and toss very briefly.  Scatter over the fresh parsley and serve.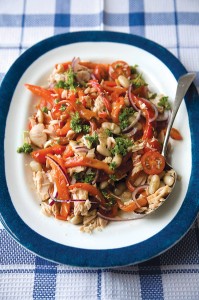 Leave a Reply