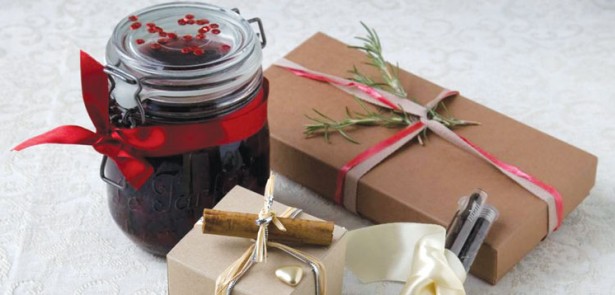 It's at this time of year that you will be starting to panic, realising that you still have Christmas presents to buy, for people whom you have no idea what to give.
The simple answer is to revert back to what you used to do as a child – use your creative skills to make something. And I guarantee they will be delighted, not only with the delights of eating your gift, but also knowing that you have gone to so much trouble to make it, specifically for them.
Instead of spending huge amounts of money on a gift that is likely to be discarded, or left to gather dust in a cupboard for a few years, before being recycled and passed on to somebody else as an unwanted Christmas gift, giving food ensures that your gift will be used, or in this case, eaten, especially if it is something festive that can be enjoyed and shared over the festive time.
As with most things, thinking ahead is the best way, as there are far more ingredients available in the summer than there are now. Summer jams, lemon curds or autumn fruit pickles are perfect to give any food lover as a present.
Another delicious gift that may be appreciated more by the men of the family is alcohol! But not shop-bought drinks, instead look for recipes to make delicious liqueurs, such as home-made sloe gin. One of my favourite pastimes in late autumn is to go walking in the countryside on the look-out for blackthorn bushes, which is where you will find the small, dark berries that make this gorgeous rich and fruity drink.
And for the non-drinkers, keep a look-out around May when the elder tree is in full bloom with elderflowers, to make elderflower cordial or syrup that can be used throughout the year, either as a drink or for use in cooking.
But now, as there is nothing left on the trees or bushes, you will have to use produce and ingredients available in stores – luckily we have such a range of ingredients available to us all the year round, there is not a problem coming up with great gift ideas.
Also keep a look-out for pretty bottles, jars and boxes – lots of produce comes in unusual packaging, so before you discard it think of how you can jazz it up and make it look special for putting your food or drink gifts in – wrapping with ribbons, or tying on Christmas decorations or spices, can transform even a plain brown box.
This is also a great opportunity to teach children the delights of giving – not by trawling around the shops and spending money, but by making something that they will enjoy making, be very proud of and very excited about giving to somebody else – what better gift could you give them?
Happy Eating!
Leave a Reply