Chef's Special: The Bull Hotel – Tournedos Rossini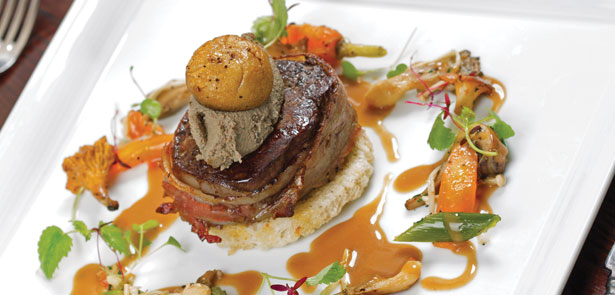 A classic French dish purportedly created by French master chef Marie-Antoine Careme for the composer Gioachino Rossini
A beautifully constructed classic dish that is currently making an appearance on the Bull Hotel's exciting new a'la carte menu, giving a more up to date approach which should appeal to modern tastes but still achieving the traditional rich flavours that made the original dish such a great classic. Slices of foie gras and black truffle make way for the chicken liver parfait and flat field mushroom that give a similar but lighter flavour, still harking back to the originality of the dish.
Serves 4
Ingredients
 4 x 200g Fillet Steaks
4 Slices of Pancetta
 200ml Good Beef Stock
100ml Double Cream
 4 Flat Mushrooms
100g Chicken Liver Parfait
 4 Toasted Croutes
 Splash of Madeira
Method
Wrap steaks in Pancetta, season on all sides and seal in a pan for 5 mins or until rare, leave to rest in warm place.
Sauté Mushrooms for 3-4 mins until tender.
Deglaze pan with Madeira, add stock and reduce by half, add Double Cream and reduce again.
Assemble dish by placing toasted Croute on a warmed plate, place Steak on Croute, shape Liver Parfait on top of Steak, top with sautéed Mushroom, dress with Madeira cream, add a few micro leaves and a dusting of pink Peppercorns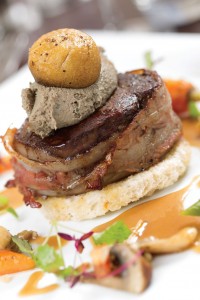 Leave a Reply