How to make: strawberry-topped French toast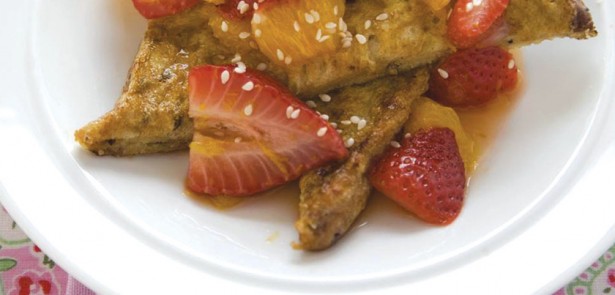 A great breakfast or brunch idea – lovely eggy bread topped with tangy fresh fruit. One the children will love to help with too!
Serves 2
Ingredients
1 large egg, beaten
2 tbsp milk
1/2 tsp caster sugar
2 slices wholemeal bread
1 orange
200g (7 oz) strawberries, sliced
1 tbsp honey
1/2 tbsp olive oil
sprinkling of sesame seeds to serve
a perfect summer breakfast or brunch
Method
1. Beat together the egg and milk with the sugar, making sure the sugar has dissolved. Place in a shallow bowl.
2. Place the pieces of bread in the bowl and leave to soak for a minute before turning over and soaking the other side.
3. Peel and segment the orange, holding it over a small pan to catch all the juice. Add the remaining fruit and honey and simmer gently for 3-4 minutes, just to warm it through.
4. Heat the oil in a frying pan and cook the slices of bread for 2-3 minutes on each side, until golden.
5. Place each slice of toast on a plate and top with the warmed fruit. Serve immediately sprinkled with sesame seeds.
Leave a Reply