How to make: stem ginger shortbread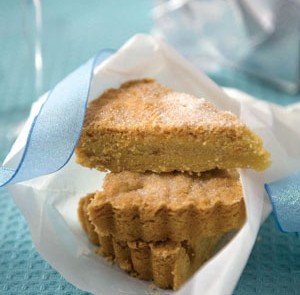 Once you have tried home-made shortbread you will never buy it ever again! And the addition of ginger makes it even more special. In the summer substitute the ginger for a few lavender flowers for a really unusual flavour.
Makes 8 pieces
Ingredients
175g butter, at room temperature
75g caster sugar
2 knobs stem ginger, finely diced
175g plain flour
75g fine semolina
Creamy sweet shortbread, with the added taste of stem ginger
Method
1. Preheat the oven to 170°C/Gas mark 3.
2. Place the butter into a bowl and beat with a wooden spoon to soften.
3. Add the sugar and finely diced stem ginger and beat again to mix well.
4. Add the flour and semolina and mix gently until the mixture starts to resemble a rough dough. Use your hands to bring the dough together, finishing when you have a complete ball of dough.
5. Place the dough in the centre of a 20cm fluted tart tin and press it down towards the edges, to fill the tin. Level the top by pressing gently with your fingertips.
6. Using a fork, prick holes over the surface to prevent the shortbread from rising during cooking, then make a pretty pattern around the edges if wished.
7. Place in the oven for 30 minutes then reduce the temperature to 150°C/Gas mark 2 for another 15 minutes. The shortbread should be golden brown.
8. Remove from the oven and score with a sharp knife, into eight equal wedges. Leave to cool in the tin then cut into wedges.
Leave a Reply