How to make: smoked mackerel pate with greens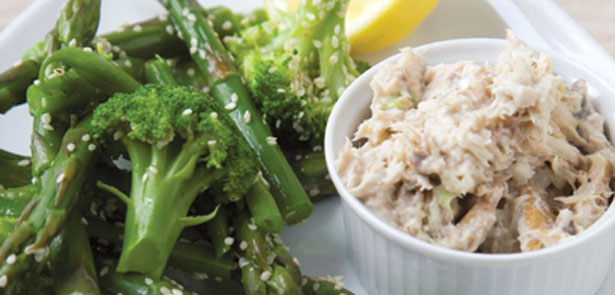 A really great way to enjoy this wonderful fish. Can also be eaten as a snack or starter with toast.
Ingredients
250 g Smoked Mackerel, skin removed
2 tbsp Natural Yoghurt
2-3 tsp creamed Horseradish
Juice of 1 Lemon
Seasoning
3 Spring onions, finely chopped
300 g Broccoli, cut into florets
300 g Asparagus Spears, woody ends trimmed
200 g Green Beans, trimmed and halved
1 tbsp Olive Oil
2 tbsp Sesame Seeds
Method
Flake the mackerel and place half in a food processor with the yoghurt, creamed horseradish, half the lemon juice and seasoning, and blitz until nearly smooth.
Stir in the remaining flaked mackerel and spring onions and place in the fridge to chill for 10 minutes.
Meanwhile, blanch the broccoli, asparagus and green beans in boiling water for 4-5 minutes and then drain and plunge into cold water to stop the cooking and help to retain their fresh green colour.
Toss the cold vegetables with the remaining lemon juice, olive oil and sesame seeds and serve with the pate.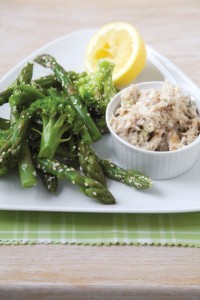 Leave a Reply