How to make: scrambled eggs with smoked trout and detox juice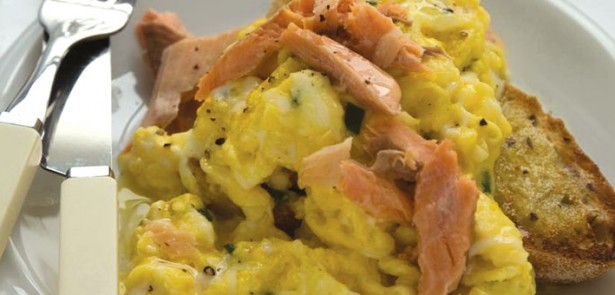 A healthy, protein-rich breakfast – perfect for new year resolutions!
Serves 4
Ingredients
For the juice –
2 beetroot
2 apples
2 sticks celery
small handful parsley
2cm piece root ginger
For the eggs –
6 eggs
seasoning
100ml full fat milk
1 tbsp chopped chives
25g butter
4 slices wholemeal bread, toasted
125g smoked trout
A great Boxing Day breakfast
Method
1. For the juice, place all the ingredients into a juicer and juice. Stir well and divide between 4 glasses.
2. Beat together the eggs, seasoning, milk and chives.
3. Melt the butter in a large pan and pour in the egg. Let the egg sit for a few seconds and then slowly stir with a wooden spoon, lifting and folding from the bottom of the pan. When it is nearly set, take off the heat and allow to sit for 20 seconds whilst it continues to cook.
4. Serve the egg on wholemeal toast, with flakes of smoked trout on top.
Leave a Reply