How to make: salt-roasted new potatoes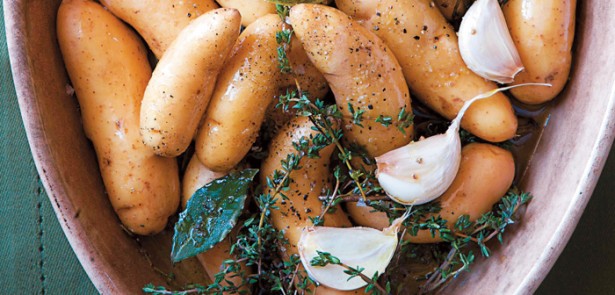 Summer is the season for tiny new potatoes that you find at the farmers' market, like German Butterball, Russian Banana, and little fingerlings. Simply scrub them, add a little oil and salt, and roast them in the oven. Easy! Roasted potatoes are delicious with fried fish.
Ingredients
2 pounds tiny new potatoes
A few sprigs of thyme
1 small head garlic, broken into cloves, not peeled
Olive oil
Salt and pepper
Method
Preheat the oven to 400°F. Wash the potatoes and pat them dry. Put them in a baking dish in one layer, and add the thyme and garlic cloves. Drizzle generously with olive oil and toss to coat everything well. Sprinkle with salt and pepper.
Cover the dish with foil and bake for about 30 minutes. When the potatoes are tender when tested with a fork, remove the foil and let them brown for another 10 to 15 minutes. Serve from their baking dish, with the roasted garlic, or pile on a platter.
Taken from 'Heart of the Artichoke' by David Tanis (Artisan Books, £25) Copyright 2010
Leave a Reply