Chef's Special: Riva Restaurant – Pasta Marinara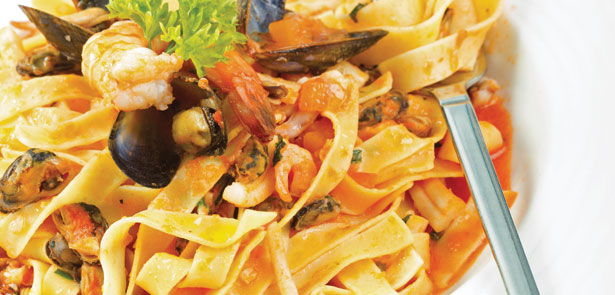 The chef's down at Riva share their delicious recipe for the classic dish Pasta Marinara
Once all ingredients are in the pan cook for about 5 mins more on a high heat, moving the contents continuously so as to prevent them from burning.
Serves 2
Ingredients
12 King Prawns
12 Whole Mussels
4 Squid Tubes
100g Baby Prawns
12 Baby Octopus
400ml Tomato Passata
50ml White Wine
100g fresh Chopped Tomato
2tbs Butter
Garlic to taste
Salt & pepper to taste
5 chopped fresh Basil Leaves
Method
Butter & Garlic in a pan and heat.
Add the Seafood to cook off.
Add White Wine.
Add fresh Tomatoes.
Add the Passata and season.
Add the Basil.
Prepare Pasta (egg tagliatele).
Add Pasta to sauce,
Mix together and serve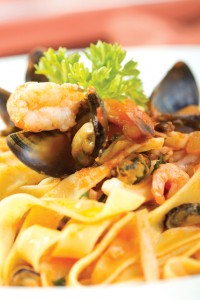 Leave a Reply