Majority Rules – The Wicked Witch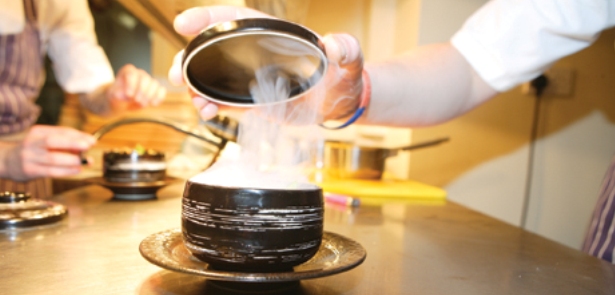 He might be used to bossing Peterborough United players around, but when it comes to making decisions about his new pub and restaurant, Darren Ferguson doesn't always get his own way: his three co-owners see to that. Meet the team behind one of the region's most exciting restaurants...
Democracy is alive and well at The Wicked Witch.
The four co-owners of the new, and uniquely styled, country pub and restaurant in Ryhall near Stamford get together to discuss every aspect of what is their first business venture together. From the colour of wallpaper to the right kind of light switches, no decision, however small, is made without getting heads together to consider the options.
So when we visited the premises that used to be the quiet Millstone country pub, we were naturally joined by all four investors as we sat down at a table to learn the full story of The Wicked Witch.
'I never thought that a wall socket or a light switch could ever have made me cry. But I know different now!'
By its very nature, democracy can be noisy and chaotic, as everyone with the right to vote wants to have their say. And the small gathering of people round the subtly-lit and immaculately-laid wooden table in The Wicked Witch all have stories to tell about getting their new business up and running. They laugh, roll their eyes in mock exasperation, and reminisce like any gathering of friends would do in the convivial atmosphere of a country pub.
'I never thought that a wall socket or a light switch could ever have made me cry. But I know different now!' Nicola Ferguson says.
'Really?' her husband Darren asks, clearly hearing this piece of information for the first time. 'I didn't even know that. That's a bit worrying!'
And yes, it is that Darren Ferguson, manager of Peterborough United and son of the legendary Sir Alex, now taking his first tentative steps into the catering business along with his wife Nicola and their two friends, Mark and Sarah Bunce.
Nicola's wall socket revelation shouldn't really have come as a surprise; it's just one example of the hard work and attention to detail that all four partners have put in to realising their vision of a sophisticated city dining experience in the rural tranquillity of Rutland. 'It may be fun to dream up the look of your perfect pub or restaurant in your head, but the practicalities of making it happen were a nightmare!' she says.
'I'd ask an electrician if he had light switches and he'd say yes and show them to me and they'd be totally different to what I'd envisioned. It's hard to get other people to understand exactly what you want without being there the whole time.'
Leave a Reply