Chef's Special: The Wicked Witch – Rabbit and Pistachio Terrine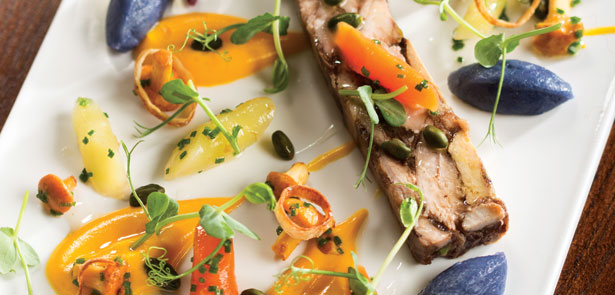 An absolute show-stopper of a dish! It may take a bit of time, but will be well worth it to give your friends and family a real treat
Ingredients
2 whole rabbits legs and loins removed
4 shallots
500g button mushroom
50g chopped parsley
500ml chicken stock
leafs gelatine
50g salt
50g sugar
1 bunch thyme
2 large gherkins
12 capers
20 pistachios
2 lemons
Keep all kidneys and livers for garnish
100ml milk
2 bay leafs
Garnish for terrine
4 baby orange carrots
4 baby yellow carrots
4 purple carrots
 50ml vinaigrette
100g mixed Salad
20g pistachio
carrot jelly (optional)
Equipment needed
Terrine mould
Clingfilm
Baking trays
 Foil
Wooden spoon
Method
Mix the salt, sugar, thyme together and rub the rabbit legs with the mix and leave to draw all the moisture out of the legs. It takes about two hours; wash and pat dry.
Place the rabbits in a preheated oven at 120 degrees on a tray covered in foil and cook for about one hour or until the meat falls off the bone, then pick all the meat off and set aside.
Slice the shallots, mushrooms, gherkins and capers and sweat in a pan until soft, add chicken stock and reduce by three quarters, add the soaked gelatine leaf and mix together with the leg meat.
Bring the milk and bay leaf up to the boil in a pan and set aside, add the loins from the rabbit with the kidneys and livers, when cool take the loins and livers out and pat dry.
Line the terrine mould with the cling film and add half the leg meat, press down with a spoon and then add the loins, kidneys, and liver in the centre, then place the remaining leg meat on top and cover tightly with Clingfilm and set in the fridge for four hours.
Assemble the terrine and garnish as shown.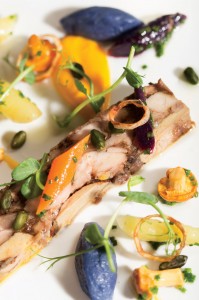 Leave a Reply