Chef's Special: The Exeter Arms – House Cured Duck Ham With Champagne Rhubarb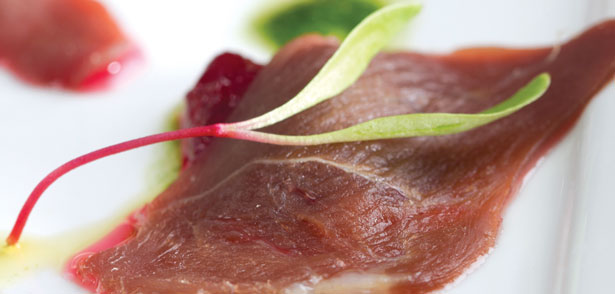 Preparation time – 30 mins For best results curing process should be 48 hrs
Serves 3
Cured duck
1 Duck Breast
300g Cooking Salt
200g Granulated Sugar
100g Finely grated fresh Ginger
 2 Cloves of Garlic crushed
Rhubarb jam
2 large sticks of Champagne Rhubarb (other rhubarb can be used)
Vanilla Pod
200g Sugar
1⁄2 Pint Water
A selection of Fresh Herbs
Olive oil
Micro salad
Method
Cured duck
Mix all of the ingredients in a bowl
Remove the skin from the duck breast and put into a bowl.
Ensure that all the duck breast is covered with the salt mixture so that no air can get to the meat.
The curing process is best if left for 48hrs in a fridge but can be cured for as little as 30 minutes. After 48 hrs ensure that all of the curing salts are washed off.
Champagne Rhubarb Jam
Chop the Rhubarb into small squires – there is no need to peal.
Cut the vanilla pod lengthways and remove the seeds. Add all of the ingredients together in a saucepan.
Reduce in the saucepan until the ingredients come together like jam. Cook on a low heat for aprox 40 minutes. Once the consistency is correct chill in the fridge until cold.
Presentation
Thinly slice the duck breast. Use a rolling pin to make the slices thin.
On a plate, put five spots of jam. Place the duck slices on top of the jam.
Take the fresh herbs and blitz in a food processor with a drizzle of olive oil so that it is bright green in colour. Drizzle on the plate.
Finish the plate with a few leaves of micro salad.
Leave a Reply