Chef's Special: The Cherry House – Tournedos of British Beef Fillet with a Roquefort Cheese Soufflé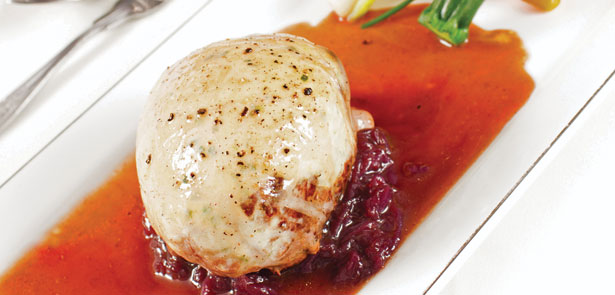 A luxurious, extravagant meal that will have friends and family a) drooling with anticipation and b) hugely impressed with your virtuoso cooking skills
Serves Four
Ingredients
1kg trimmed Beef Fillet
250g Chicken Breast 
1 Egg White 
150g Roquefort Cheese
200ml Double Cream
1 tbsp Finely chopped Parsley
4 x 6" square pigs' caul fat (available from any good butchers or Grasmere Farms)
Salt and freshly ground Black Pepper
Oil/butter for pan frying
Sauce
50g Finely chopped Shallots
1 Garlic Clove, crushed
400ml of good quality Red Wine
1 tbsp Redcurrant Jelly
Salt and freshly ground Black Pepper
A little Butter for frying
1 tsp Chopped fresh Thyme
1 litre Veal Jus (available from Waitrose) alternatively 1 litre good Beef Stock
Method
Preheat oven to 200c/gas mark 6.
Cut fillet into 4 equally sized portions. Season with salt and freshly ground black pepper.
Heat a sauté pan until hot, add the oil and some of the butter, seal the beef on each side until brown then remove from the heat, set aside and allow to rest.
Meanwhile, cut chicken breasts into cubes and place in a food processor with a little salt and black pepper. Blitz until fine then gradually add the egg white until mixture is a smooth consistency.
Crumble and gradually add the Roquefort cheese followed by the cream.
Remove from food processor and place mixture in a mixing bowl; add parsley and season.
Place a small dome of the mixture in the centre of each of the beef fillets; place the caul fat over the top and pull together forming a parcel with the edges on the underside of the beef.
Preheat a clean sauté pan with a little oil and butter; place the beef underside down in the hot pan; brush the top with a little melted butter, season and place in the preheated oven until cooked as required – approx cooking times: Rare 5-8mins; Medium 8-10mins; Well-done 10-12mins.
Remove from oven once cooked to desired preference and allow to rest.
To make the sauce
Heat a sauté pan until hot; add some more of the butter and sweat the shallots and fresh thyme in the butter.
Once the onions are nicely browned, add the red wine and garlic, cook until reduced by half.
Add veal Jus, redcurrant jelly and again reduce down by half.
Turn the heat, season to taste, and finally whisk in a good knob of butter and pass sauce through a sieve.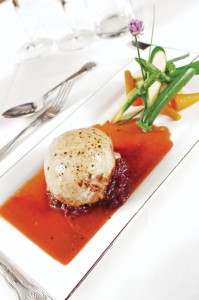 Leave a Reply