How to make: carrot and courgette cake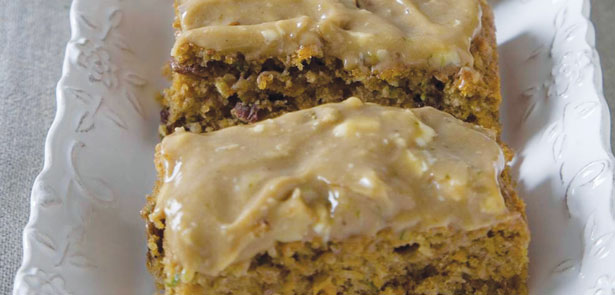 It's a cake, but it's packed with vegetables – practically two of your five-a-day (we think, don't quote us on that) – so what's not to love?
Serves 8
Ingredients
100g dark muscovado sugar
2 eggs
75ml groundnut oil
100g wholemeal self-raising flour
60g sultanas
50g desiccated coconut
1 tsp ground cinnamon
1⁄4 tsp ground nutmeg
100g carrots, grated
80g courgettes, grated
25g unsalted butter, softened
50g cream cheese
75g light muscodavo sugar
Grated zest of 1 lime
25g walnut pieces, chopped
Method
Preheat the oven to 190°C (375°F) Gas Mark 5. Grease and base line an 18cm square cake tin.
Place the sugar and eggs in a large bowl and whisk together until thick and creamy. Slowly pour in the oil, whisking constantly.
Add the remaining ingredients and spoon into the prepared tin.
Bake for 30 minutes, until a knife inserted in the centre comes out clean.
Remove from the tin and cool on a rack.
Meanwhile, cream together the butter, sugar and light muscovado, and then stir in the lime zest and walnuts.
Spread the icing over the carrot cake and serve.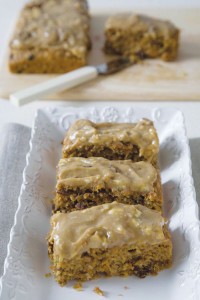 Leave a Reply