HOW TO BECOME A MODEL CITIZEN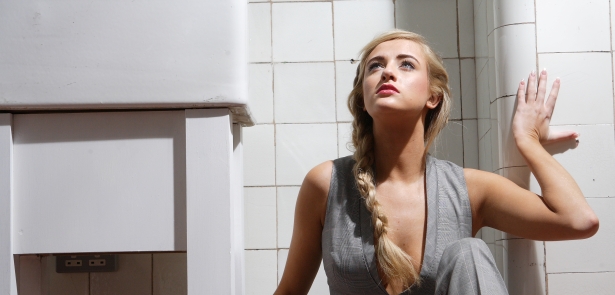 So, you want to be a model? Kate McAuley gives you a no-holds-barred glance inside the industry and tips on how to make your dream come true (if you still have the guts)
When I was young, I wanted to be a ballerina or a hairdresser or a writer of great fiction, such as Judy Blume's Are You there, God? it's me, Margaret. Talking to kids these days, however, and it seems that most young people have a singular aspiration: to be famous. Boys fancy becoming rock or rap or movie stars, while a growing number of girls appear to be hanging their hopes on their looks. 'I want to be a model,' is an increasingly common goal.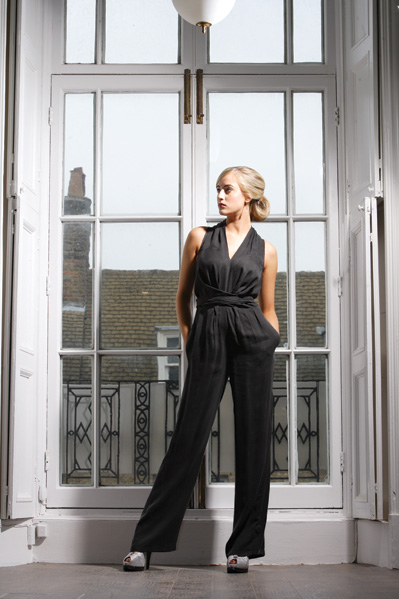 On the face of it (pun very much intended), it's easy to understand why. From the outside, a model's life is oh so very glamourous. Everyone adores you. Everyone tells you that you're beautiful. Every week you're jetted off to exotic locations. On Monday you're frolicking in the Mauritian waves in a Zimmermann bikini with David Gandy snuggling into the crook of your neck, while on Friday you're posing in Vivienne Westwood in the French Alps. All you have to do is pout or grimace, move around a bit, and – once in a blue moon – smile. Photographers, make-up artists, hairdressers and Adobe Photoshop do everything in their power to ensure you look spectacular. Bloggers and journalists write about you and all sorts of men and women send you love letters and tweets. Robert Pattinson (or similar) is constantly hounding your assistant for your phone number. You're gorgeous face simultaneously appears on the covers of Vogue, Elle, Grazia, Pop, Tank, Another, Love, Marie Claire, Cosmopolitan, Glamour and The Moment Magazine. Pigs are filmed sprouting wings and flying backwards around the moon.
OK. Back to reality. It's been said before, but I'll say it again. Modelling is not for the faint hearted. It's a brutal industry that, while glossy and shiny on the outside, behind-the-scenes it's a different story. Models of all levels have to deal with – at one point or another – long hours, uncomfortable, scary or dangerous situations, low wages (or no money at all), exploitation (sexual or otherwise), and a whole heap of rejection. And this list is by no means comprehensive.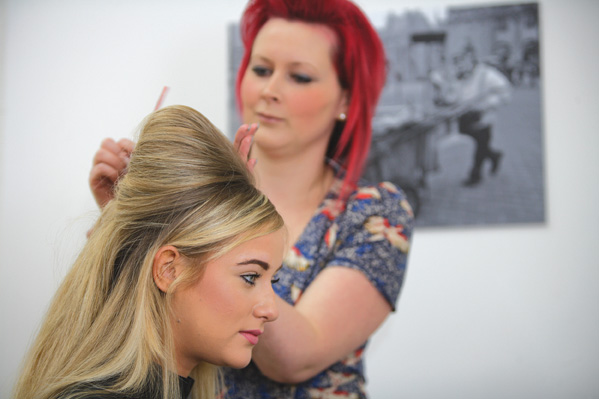 During my modelling days, for example, I was sent to Japan. It was the mid-90s and most of the time I had men and women grab at every part of my body claiming that there was something wrong or pointing out a piece of me they didn't like (usually my ample – AKA size 10 – bosom and bottom). And, while I worked regularly, it was not always a pleasant experience. I would often be talked down to or ignored. And while, I enjoyed the process of being made up, shooting with a renowned photographer or walking the runway, I didn't appreciate losing a chunk of my scalp to an overzealous hair-styling superstar who was trying to wrestle my waist-length Western hair into a foot-high afro with perming rollers and a curling iron possessed by the devil. Nor did I particularly enjoy the endless castings, the loneliness, and the unwanted advances of all the male hangers-on (who were, more often than not, at least a foot shorter than me). The long soul-destroying, sleep-depriving 20-hour days took their toll too.
Peterborough-based model (and our cover girl) Harriadnie (pronounced harry-add-nee) Beau Phipps is another woman who is no stranger to the rigours of the industry. Harri, as she is known for short, began modelling a couple of years ago after finishing college with a whole gaggle of distinctions. 'It's all I ever wanted to do,' she says to me over a getting-to-know-you cup of coffee before The Moment Magazine shoot.
Once I made up my mind, becoming a successful model was my goal.
And, Harri has done just that. Since beginning her career, she has scored major jobs, working for the likes of HMH Couture, the Sugar Hut, Pia Michi, UK Tights and Beauty & The Beast, but it has come at a cost. 'There was some backlash,' she says.
Some of my best friends began leaving mean messages on my Facebook page.
Her eyes momentarily lose their sparkle as she remembers the rejection. 'They called me fat and wrote lots of other nasty stuff,' she adds, 'but it's better now. I have a lot of new friends who either know or work in the industry and are very supportive.' There's little doubt that the behaviour stemmed from misguided jealousy, but it hurts just the same. 'It was horrible to watch her go through that,' says Harri's mother, manager and number one fan Alex,
but she's come out the other end on top and at least she knows who her real friends are now.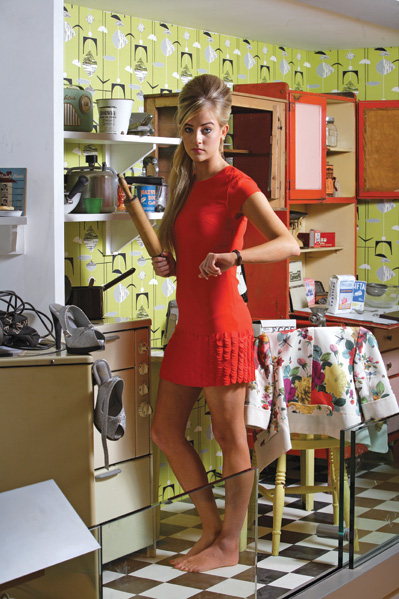 Frenemies aside, watching Harri and her mother and hearing their stories of how they navigate the world of modelling was a sight to behold – and worthy of much praise. Alex has been with Harri since the beginning of her career, guiding her daughter, assessing jobs, negotiating with clients and working with the major modelling agencies. 'It was important when she was just starting out,' Harri's mum says, 'but we've employed a manager in London now and I'm stepping back.'
And it seems like right time. Harri has definitely been guided onto the right path. She's eloquent, articulate, polite, hardworking and above all professional. She also has a deep understanding of the industry and is aware of the pitfalls too. Harri's turned down offers of work on The Only Way Is Essex, for example, because she didn't want to be portrayed as a sex object. While many in her position would jump at the chance for their fifteen minutes (or should it be seconds these days?) of fame, Harri admirably stuck to her moral guns and said no. And, although it means that she misses out on the exposure now, in the long run, it's decisions like these that will help rather than hinder her career.
Naturally, it hasn't been all plane sailing. Both Harri and her mother have been learning about the industry together and a few missteps were always going to be inevitable. 'We did make the mistake of travelling a long way north to visit a so-called designer in his so-called studio,' Alex concedes.
He contacted us to say that he was naming a dress after Harriadnie. He wanted to fit it on her and then give it to her. Everything was checked out until we got to his 'studio.' We ended up in a filthy apartment and promptly left empty handed.
It's stories like this that make me cringe. It's easy to imagine a young girl – without the support of someone like Alex – turning up to a flat alone, lured with promises that no one intends to keep. What happens next is anybody's guess. Disappointment? Definitely, though the morbid side of me imagines a lead story on the six-o-clock news. Obviously, I'm stretching this line for effect, but there's no denying that the desire for fame can make young girls an easy target for those who would like to exploit them.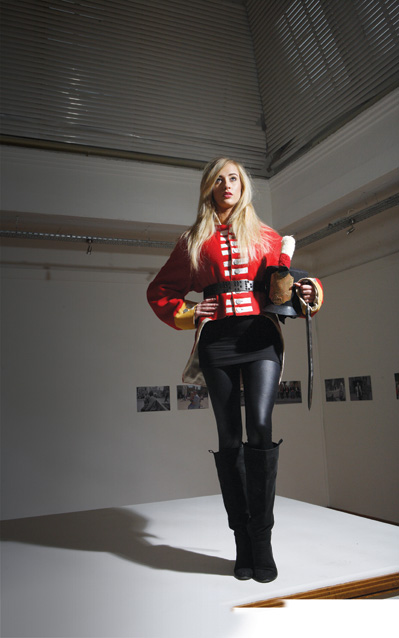 On the flipside, however, much has been done of late to protect models. Fashion councils and institutions all over the world have banned the use of both underage and underweight models for catwalk shows and editorials. A number of non-profit and regulatory bodies have also cropped up, including the Model Alliance – a project started in the US by Sara Ziff to ensure that models have a safe, fair, and healthy standard in their workplace – and supermodel Erin O'Connor's British-based Model Sanctuary provides a safe place for models during the rigourous and demanding biannual London Fashion Weeks.
Facebook, Twitter and YouTube have also helped to give models a voice. For a long time nobody knew what Coco Rocha or Karlie Kloss sounded like when they spoke. Now, thanks to the internet and social media, models are heard and somehow legitimised. Instead of just donning clothes and strutting down the catwalk, or appearing in 2-d magazine images and ads, we get to 'know' the girls and hear their personalities and opinions. Fundamentally, they come down off their pedestal and we see them as human.
So, it's not all doom and gloom. As a career, modelling can afford you some amazing experiences and opportunities (and yes, money, if you're prepared to work very, very hard), but please remember to be successful you require tenacious self-discipline, a reliable support network, a solid understanding and realistic opinion of yourself and what you have to offer, a knowledge of light and angles, both confidence and humbleness, the ability to take direction, ambition and willingness to self publicise, and, most importantly, an intelligent head on your shoulders.
So much more than just a pretty face.
 MODEL MYTH-BUSTERS
There's no such thing as a size zero in the UK. A US size zero – where the term comes from – is a UK size 4. Now that we have that cleared up, let's get to the debunking. Models come in all shapes and sizes, and fashion is slowly changing to include healthier, curvier women in fashion editorials and on the runway.
Again, the answer is no, depending on what type of model you would like to be. High fashion models tend to be striking or quirky rather than classically pretty.
I NEED TO BE SIX-FEET TALL
This is no longer the case – and may in fact work against you. My modelling card in Japan lied about my 183 cms, instead listing me as 175cms so I would get more work.
Again, false. There are models working who are as old as 90. And what about all those supermodels? Cindy Crawford, Linda Evangelista, Helena Christensen and Claudia Schiffer are all in their 40s and working solidly.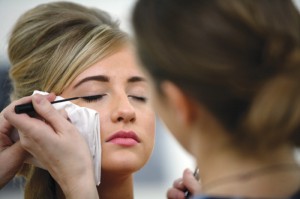 Modelling 101
DO your research. If you're lucky enough to be approached by a scout, Google the name and the company on the business card at the very least, before you agree to meet. If you plan on walking into an agency – where you present yourself and recent photos for potential representation – make sure they're reputable and try to find out who else they represent to make sure it's the type of modelling you're interested in.
DON'T expect overnight success. While this might happen for the lucky few, anticipate a lot of time invested before you begin to make headway.
DO have something to fall back on. Modelling is a fickle business. Essentially you are working for yourself and, like clothing, looks go in and out of fashion. What's hot one week, might not be sort after the next and agencies can drop you with little notice.
DON'T think you know everything. Take your time to learn your industry and your craft. Study fashion magazines and models, listen to others, and don't be afraid to ask for mentoring or advice.
DO always act friendly and professionally. You might be the most beautiful girl in the world, but if you're a pain to work with, you won't get booked. The industry is small and word travels fast.
DON'T get caught up in the hype. Fashion parties and celebrities go hand in hand with modelling and it's easy to lose your head. It's fine to enjoy the perks, but never forget that this is a job.
DO refuse work if it makes you feel uncomfortable. There is no point in compromising for a single opportunity, no matter what it promises.
DON'T forget to look after yourself. You need all your strength and your job is to look good. So, eat well, exercise, get lots of sleep, and treat yourself to a regular facial. Everyone needs to be pampered.
Fashion editor: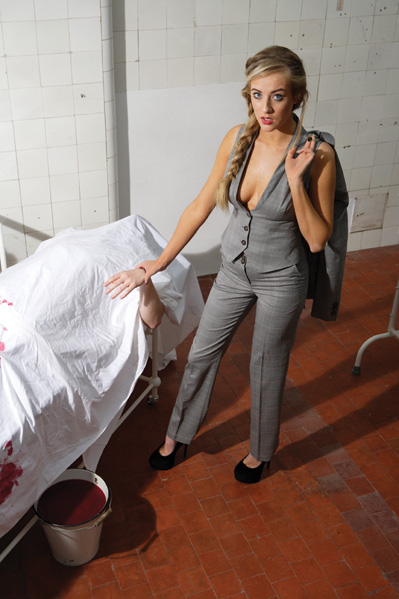 Kate McAuley
Model:
Harriadnie Beau
Photography:
Simon Hipperson
Hair:
Salon Sa Vi
Victoria Gilbert and Samantha Bewick
Location:
Peterborough Museum
Leave a Reply