TIME TEAM TONY'S TRIUMPHANT MUSEUM RE-OPENING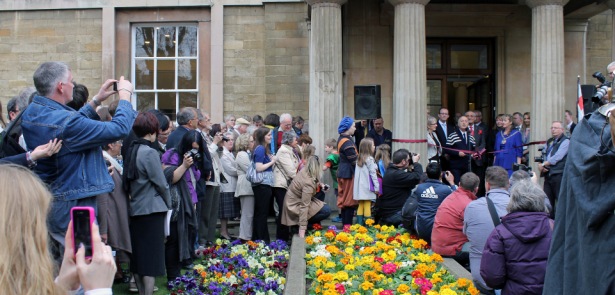 At last! After an extensive 15-month refit and renovation costing 3.2 million, Peterborough Museum and City Art Gallery were opened in style at the end of March by Tony Robinson from TV's Time Team and Blackadder
FOLLOWING A ROUSING and hilarious speech outside the building by Tony (during which he revealed his childhood acquaintance with the city and memories of the museum at that time), the people of Peterborough finally got the chance to see what all the fuss was about.
On the afternoon of the opening day alone, 1797 visitors flooded through the doors to enjoy the spectacular improvements and new-look galleries displaying thousands of local items that tell the story of the city. And that figure of 1797 was very significant for more than just its size, as one of the most popular and impressive rooms is the completely revamped Norman Cross gallery, chronicling the world's first prisoner-of-war camp that once stood near Yaxley. It opened to hold Napoleonic War captives in 1797…
While the crowds browsed the exhibits, The Moment's historical editor Richard Gunn caught up with Tony for a chat…
RG:
You mentioned in your speech as a young boy that you used to come here. Did you ever think that you'd be coming back as a slightly older person to actually re-open it, in such a spectacular way?
TR:
As a child, I always hoped that I'd go somewhere, and people would be aghast at what I was doing, so in that sense, yes. I was an extremely power-mad kid!
RG:
Was it good to see so many people turn out for the opening?
TR:
It was genuinely fantastic. When I saw all the people inside the museum, the great and the good, you kind of expect that. But then, to step outside again and to see that queue, going around the block. And all for a museum. When do you get things like that happening?
RG:
At a time when there seem to be so many financial restraints on anything that perhaps isn't regarded as a core service, especially if it's connected with a council, it must be great to see something like this open up?
TR:
Well, I've always argued that culture and sport are core services. It's just that there is a mind-set that says they are in some way peripheral and cosmetic. So to see this real passion in Peterborough…I really got a sense of that today, of Peterborough repositioning itself, no longer as the new city, which is where all the investment went in the 1960s and 1970s, but rediscovering itself as a cultural and historic centre. I find it very inspiring. And it seems to me to be a quite legitimate and imaginative way to spend public money. I think this has been borne out by all the people queuing around the block to actually come and see it.
RG:
Do you have a favourite room?
TR:
There's the Norman Cross Gallery; of course, Norman Cross featured in one of our Time Team episodes. A close second would be the operating theatre. Which is bizarre. There was an operating theatre in this building when it was a hospital, now they're recreating it as a museum experience. I doubt if there's any other museum in the world that has been able to do that. But the room with the Norman Cross display, and the exhibits made by those in the camp, is just so, so good. And so surprising. What I hadn't realised, even though I'd made a programme on it, that when you talk about French prisoners-of-war, you're also talking about prisoners from French north and west Africa. So an awful lot of the items show African skills, which have suddenly found themselves in Peterborough. And it's a really good illustration of how cultures can zoom across the world. To me, those carvings are a national story. And hopefully they will become one now, because of this museum.
RG:
It's an incredible, fascinating story surrounding Norman Cross, yet very few people seem to know about it.
TR:
I'd love to do the story of Norman Cross for The Observer or The Sunday Times magazine.
RG:
We've heard that more Time Teams are on the way. Can you say if there any going to be in this area?
TR:
I can put my hand on my heart and tell you that all I know is that the first one is in Oxfordshire. I've got so much going on that I don't have the time to get involved in the forward planning. What I can tell you is that one of the other documentaries we're currently working on is about the bronze age boats recently discovered near here, which should be transmitted before Christmas.
You can see more on the fresh-look Peterborough Museum and City Art Gallery in the current issue of The Moment magazine.