The Battle of Britain Tour at Duxford – 29 Jan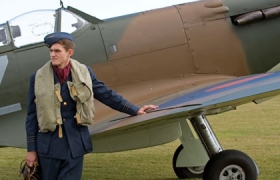 On Sunday 29th January 2012 the Battle of Britain tour looks at Duxford's role as a typical Battle of Britain Fighter Station, examining the communications systems employed to win the battle in the air, including the teleprinter communications and the Operations Room.
The tour is running on the following dates:
29 January 2012
25 February 2012
24 March 2012
This event is suitable for all ages. Booking is essential. For more information about the tour please contact Philip Sawford, Informal Learning Manager on 01223 499 342 or .
Cost:
All ticket prices include admission to IWM Duxford.
Adult (16-59 years) £20.00
Child (aged 15 and under) £5.00
Senior (60 years or over) £16.70
Student £16.70
Unemployed £11.75
Disabled visitor £13.40
Carer (one per disabled visitor) £3.50
Friends of Duxford (all categories) £3.50
DAS and IWM Duxford volunteers £3.50
Friends of IWM £3.50
Tickets can be purchased online or by calling the Box Office on 01223 499 353.
Find out more: http://www.iwm.org.uk/events/duxford-and-the-battle-of-britain-tour-0