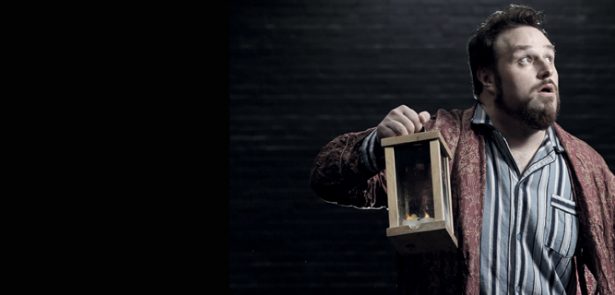 Vivacity Peterborough Museum has some spooky experiences lined up for those who dare to partake. Toby Venables talks to Vivacity tour guide Sandy Wardrop about what's on offer over Halloween – and how some of the resident ghosts of Peterborough's most haunted building have made their presence felt...
Ghost Walks and Candlelit Tours have been on offer at the Museum for some time – so what's new?
Those tours were run by Stuart Orme for many years while he was at Vivacity as Interpretation Manager – he is a local historian and has written a book about Peterborough ghosts so was really the key figure in getting these established. Since he moved on to work at the Cathedral, however, we've taken on four new guides at Peterborough Museum, each with their own approach and style. There's Mark Atkins, who is also a re-enactor, there's Sue Okubadejo who works in education at the Museum and is a storyteller, then there is Jane Smith, who used to be on the radio and is one of our major volunteers. Then there's me! I work in marketing at Vivacity, but I also have a background in drama, standup comedy, storytelling and wrestling.
Wait a minute… Did you say wrestling?
Yes! I trained for about two years as a professional wrestler with the London School of Lucha Libre [Mexican style wrestling]. I did wrestle occasionally, but mostly I spoke on the mic. I used to play a character who was a sort of valet to the Lucha Britannia champion Santeria, who was a voodoo witch doctor. He couldn't speak English – that was his gimmick – so I played this very well-spoken English gentleman with a top hat and a cape and I would translate for him and gee up the crowd for his matches! But, oddly enough, there are quite a few parallels with doing the ghost guiding, because you're never quite sure what's 'real' and what isn't. It's always very interesting how people who come to the ghost tours generally joke and laugh at the beginning, but then as you tell more of the stories they start experiencing things… To some extent I cut my teeth learning how to play on people's emotions as a wrestler and a standup comedian! And now there are four different tour guides, we've been very much encouraged to make the tours our own. So, depending on who you have as a guide you might be in for a slightly different experience. The essence of the stories is the same throughout of course, but Sue tells things in quite a heartwarming way, Jane focuses much more on the journalistic facts, while Mark and I tend to inject a bit more humour. For me, that helps contrast with the scary bits.
Can you describe what happens on one of your tours?
If we take a candlelit tour as an example, people arrive, are checked off on a list and sit in the café whilst others arrive and preparations are made. Then they meet a grey-haired man in pyjamas – me! Everyone finds that a little bit funny… Then there are a number of stops throughout the Museum which are related to a certain happening in the past. At each point people will hear a true story of something that has happened at the Vivacity Museum – a bit about the history of the Museum and how it relates to that event – and then they'll also hear the folklore. That's where the line blurs a bit between fact and perception, but I do my best to deal in the facts. We know, for example, that Thomas Hunter was a WWI soldier from Australia who died within this building, and it is also a fact that people have reported seeing an image of him up and down these stairs.
That continues up through various galleries in the Museum, and I also tell people a bit about what happens day-to-day in the building so they get a tour of the Vivacity Peterborough Museum as well as hearing the ghost stories. We go past Jurassic reptiles and Bronze Age men. We see the original Victorian operating theatre, which played host to one of the first people to die of x-ray radiation poisoning, and then finish up in the Vaults beneath the Museum. On a city ghost tour it's a similar thing with various stops around the city and the stories that relate to them. If there's a story that has to do with hearing a noise I will also pause and have people listen out to see if we can hear anything. But really, I'm encouraging people to make up their own minds.
So, you're not telling people what to believe?
I think for some people it is very important that they believe in ghosts, but I never tell people 'this is a ghost who actually was here', nor do I tell people that ghosts don't exist. I just say what we know and allow people to make up their own minds. I think you end up with a better experience if things are left open to interpretation. The human imagination is more powerful than anything you might try to force on it. In Jaws the shark was hardly ever seen but the film was all the more effective for that. It's about what you don't see clearly, and what you don't know for sure. The candlelit tour in the Museum, of course, takes place in the dark and the candles do not give off a lot of light, and there is something very atmospheric – even hallowed – about the Museum building at night. And you do get some very big, looming shadows, especially in the Jurassic gallery! I think people really enjoy that aspect of it.
Have you had any strange experiences during the tours?
I've not yet experienced anything myself, but what I have had on every tour so far is a member of the group who has experienced something. The first time was when we went into the operating theatre, and I mentioned that some people who come into the room feel there is a smell of disinfectant. And when we came out, a woman said: 'You added that smell of disinfectant in there, right?' I told her no. She said: 'Did no one else smell that?' No one did. She was properly freaked out, but carried on with the tour! Of course, I had told her about the disinfectant, so it may be that I impressed that upon her while we were in there.
But there was another experience that was slightly more harrowing. We were about three-quarters of the way around the tour and there were these two women in their mid-twenties, one of whom was trying to wind the other up, tapping her on the shoulder and so on at various points. Her friend kept saying, 'Stop it!' But it was quite funny, so I hadn't intervened. There is a part of the tour where we go to an old staircase, which has 70s decor now but has been there since the 1800s, and there's a story connected with it about a serving girl who fell down the stairs. It's not clear whether she was pushed or committed suicide or if it was just an accident, but there is a background story about her being pregnant having had a serving boy force himself on her, and of her being unable to bear the shame. That part may be apocryphal – actual records of that don't exist as some records were destroyed in a fire around that time – but certainly the story has been passed down over a long period of time. Now, when we reached that staircase – before I even told the story – this girl on the tour started saying to her friend: 'Stop pushing me! Can you stop pushing me?'
Her friend denied doing anything, so at that point I intervened and said: 'Tell me truthfully – are you actually pushing her right now?' She swore she wasn't, and I hadn't seen her doing anything even though she was right in front of me. But her friend was adamant that she could feel someone pushing on her back. So I said: 'Right, you may not like what I am about to tell you… Quite often on that staircase women have felt that there is a pair of hands pushing them in the back, and the people who have typically felt this have later found out that they were pregnant.' As I was telling her, her eyes were welling up. I reassured her that it was only a story – but that she might want to get herself down to Boots in the morning… She took it with good humour, but for the rest of the tour her friend stopped the jokes! It was one of the moments on the tour when someone had experienced something, and whether it was 'real' or not, it clearly resonated with her in some way.
Do you believe in ghosts?
I'm a Humanist, so I believe in science, logic and reason. But I do have a love for stories, and find these stories compelling – and there have simply been too many coincidences for it to be easily explained away. We do sometimes have people doing things under controlled conditions here, such as the Cambridge Paranormal Society, and on one of those occasions this guy, who claimed to be a medium, walked in and said: 'Someone died in here in 1908… It was a child and the death was something to do with his abdomen…' He had no idea he was going to be at the Museum that day and knew nothing about the building, but we checked against the hospital records of the time and sure enough, on the date that he gave there was a boy who died while having an operation on his abdomen.
There have also been reports of people standing in the operating theatre feeling something cold brush against their palm – like a child's hand reaching to them for comfort. It does seem that those experiences and the records do indeed tie up. Similarly with Thomas Hunter, the lonely ANZAC who dies during the First World War. Every time he has been seen on the staircase, he has been described – independently, by different people – as wearing a blue-grey suit. People say 'Well, how do you know it's a WWI soldier if he's in a blue suit?' But, actually, people who were in for surgery during that time were dressed in those bluegrey suits to avoid them experiencing shell-shock at the sight of uniforms. It's these little coincidences that make the stories all the more compelling. And, whether real or not, it means we remember Thomas Hunter and others. There is a philosophical theory that you only truly die when your name stops being said, so, in a sense, these people are being kept alive by these stories.
A screaming good time this Halloween…
Halloween Horror Night
Sat 28 Oct, 6.30pm-9pm
Peterborough Museum
An evening of special edition, dramatised candlelit tours of Peterborough's most haunted building, where anything could appear before your eyes. Tours start every half hour. Not recommended for under 14s. £7 adults, £5 child
Halloween Ghost Walks
Fri 27, Sat 28, Sun 29 and Tue 31 Oct, 7.30pm & 8pm
Starts at Peterborough Museum
Stalk the streets with a costumed guide and discover the eerie secrets of Peterborough's history – but watch out for any ghastly ghouls who could appear round any corner. Not recommended for under 8s. £5 adults, £3 child
Vivacity Priestgate Vaults
Tue-Fri, 2.30pm, Weekends, 11am & 2.30pm
Peterborough Museum
Venture deep into the foundations of Peterborough Museum and hear stories of the city's past first-hand from the ghosts who lived them. £5 adults, £4 concessions
● To book, head to vivacity-peterborough.com or call Peterborough Museum on 01733 864663.
Leave a Reply