YOGA | Special centre provides the great escape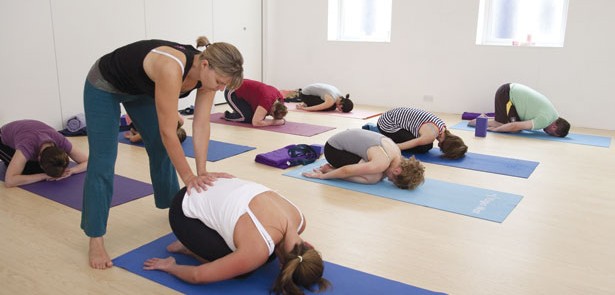 One of the fastest growing activities in recent years has been yoga and it's no surprise that a special centre in Peterborough is attracting interest from a wide range of people in the area. The Equilibrium Yoga and Well-Being Centre is dedicated to creating a sanctuary where visitors can escape from the hustle and bustle of everyday life. To find out more about what the centre has to offer we asked its owner Sandra Heider to give her views on why yoga is so popular today.
What are the benefits of yoga?
Broadly speaking the benefits of yoga can be divided into three categories:
1) There are several physical benefits from yoga. Yoga stretches and strengthens the body, thus alleviating muscle pains and preventing injuries, resulting in a state of overall well-being. Yoga helps to tone muscles and to create space in the body by opening up joints. It will help to increase mobility in the joints in particular the spine, hips and shoulders. It will help you to breathe better thereby increasing the performance of other cardio vascular activities. Sports people turn more and more to yoga as a way to cross train, to prevent injuries and to increase breath capacity and awareness. Overall, the physical posture is improved through yoga.
2) There are mental benefits too. As we recognise the link between the mind and the body, as well as our emotions, it will come as no surprise that by improving posture and breath we improve our state of mind. Through yoga concentration and focus are improved. The practitioner will feel calmer and focused at the same time. Yoga is a great way to deal with stress.
3) Our emotional landscape will also be improved through regular yoga practice. Yoga helps to make you feel more balanced and able to ride the waves of everyday turmoil and change. As things are rapidly changing and perhaps at times will be unstable around you, yoga teaches you to stay grounded and real when things are moving fast. Through yoga we learn to slow down, to find out what matters most in our lives and to accept what is, thus creating a more fulfilling way to relate to ourselves and other people.
Do you cater for beginners?
Yes, we specifically cater for beginners. Although our open classes encompass all levels including complete beginners, we offer specific courses to enable people to get an experience of learning step-by-step.
It's pretty unique to have a centre dedicated to yoga, isn't it?
Having a dedicated yoga centre in Peterborough is unique. It is the only dedicated space in Peterborough and surroundings. Although places like London and Edinburgh have seen a growth of centres, there is still a lack of dedicated practice space in areas outside London. Equilibrium Peterborough is a result of research not just undertaken in London, Edinburgh and Leeds, but also in New York and Berlin.
What facilities do you have?
We have three purpose built studios with underfloor heating, changing rooms and a chill out area. We provide yoga mats, blankets and other props. Free car parking is directly in front of the building.
Is it mainly females who enjoy yoga or do you get men as well?
Increasingly more and more men discover yoga. Often in the first instance the physically stronger styles of yoga, such as Ashtanga or Jivamukti, will appeal to men. Men are attracted to yoga to reduce work stress and tackle physical injuries, such as lower back pain and shoulder and neck tension. More sports people are also turning to yoga as a method to prevent injuries and to improve performance, especially through improved breathing. Breathing has been recognised as a main contributor to health and well-being.
How much do you charge for your sessions?
There are different ways of paying for classes. The options range from pay-as-you-go to class packs and monthly memberships.
Prices are as follows: Drop in £8.50; 5-class pass £37; 10-class pass £63; Membership £53 per month (one month commitment); 12-month membership £45 per month; 6-week course £39.
For more details call 01733 370002
email
or visit www.equilibriumyoga.co.uk