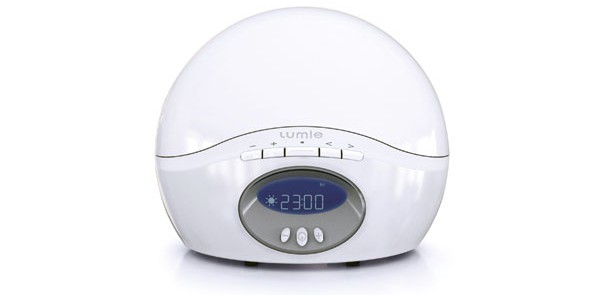 Lumie Bodyclock Active
Training's hard enough, let alone when it's dark, cold and wet outside. If the thought of waking up to another cold, dark morning sends a shiver down your spine, then a Lumie Bodyclock Active might just be the answer. As used by the British Swimming team, Bodyclock Active is a wake-up light that provides a slow and gradual sunrise to help athletes wake-up feeling energised and ready to compete. As well as providing a more gentle start to each day, Bodyclock Active also provides a relaxing sunset to help prepare the body for sleep. You can also set an alarm to wake up to bird song or, for those people who need an added incentive, there's always the rooster sound!
Proviz Light-Emitting Clothing
Proviz was set up in 2009 by two cycling enthusiast brothers to meet the need for affordable, light-emitting, bright and visible cycling accessories. The company has since expanded into the running market to help runners also be safe and seen.
Many of the products in the Proviz running range either have in-built electroluminescent, flashing strips or come with detachable Proviz Flashers. These small, electric blue lights are easily attached to the clothing through a rip-and-stick fastener, helping runners to draw attention to their position on the road or pavement. The range of products includes running shirts, a gilet, a rucksack and running belt.
The products are available exclusively from www.proviz.co.uk.
Zaggora Hotpants £44.99
Running shorts that help you lose weight and fight cellulite: sound too good to be true? Well, that's what Zaggora, the company behind Hotpants, is claiming. Specially designed with Celu-Lite technology, Zaggora has developed the product so that it works hard to reduce body fat and the appearance of cellulite by using natural body heat to increase your perspiration by up to 80 per cent. The extra calories your body burns to create the sweat contributes to weight loss. And, according to Zaggora, the proof is in the pudding: in a two-week challenge women weigh and measure themselves, then wear Hotpants every day for 30 minutes for two weeks, and then weigh and measure themselves again. Average results show a loss of 10-12 lbs in weight in that short time. But we guess you'll have to try them yourselves!
Pop Bands £12
Come the long winter months, being seen is crucial for anyone wishing to continue their outdoor activities after dark. These super-reflective Vedante Pop Bands from 1000 Mile are a quick, easy and colourful way to ensure you remain safely visible to others. Ideal for running, cycling and other outdoor activities, the Pop Band unravels to provide a wraparound band that secures to ankles, arms, wrists and packs without the need for tricky fastenings. Provides visibility from 130-450m depending on the colour chosen.