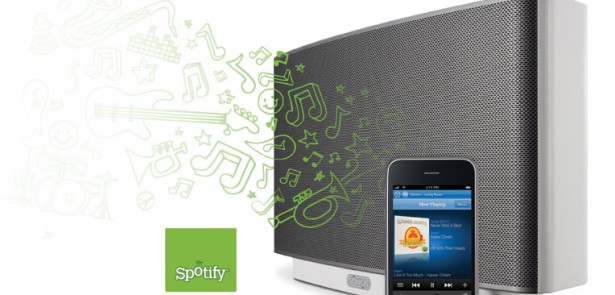 You need never buy a CD again
For decades our music collection has been a visual representation of who we are, where our tastes lie and how we want others to perceive us. From racks of 12-inch vinyl to shelves stacked with CDs, they can be important to us as any trinket or treasure you care to display in your home. However, a new service tie up with two major digital music players could mark an end to this.
Sonos is an audio streaming device that sucks all the music from your home computers or network-attached storage devices and spits them out through Sonos devices connected to stereo systems or speakers around the home. Spotify is an online music database that, for £9.99 per month allows you to 'stream' any of its 10-million plus tracks and albums, ad-free, from the internet to your computer, smartphone and now, Sonos.
The implications for this are huge. In essence, it means that you can play almost any track in Spotify's ever-growing collection, anywhere around the home. All without the need of a CD player, record deck or iPod. Essentially, it means you never need to buy a CD ever again.
Playback and tune selection is operated via a simple touchscreen Sonos Controller or, if you have one, an iPhone or iPad. You can even create collaborative playlists between friends within the Spotify application and have the results play through any one of your 32 Sonos 'zones' (rooms in your home), or all at once.
Sonos isn't cheap – around £678 for the startup package of two 'ZonePlayers', however being a modular system, you can add more ZonePlayers as and when space or finances permit.
Undoubtedly, this marks a landmark shift in how we consume music at home and how the internet will provide all of our media in the future. Whether this is at the detriment of the emotional attachment we have with our music collection is yet to be seen. With the proliferation of iPods and downloadable music, perhaps this has already started. And perhaps tangible media will be an alien concept to the next generation…
Web References