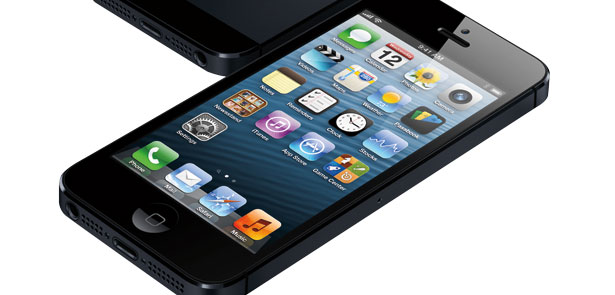 Thinner, lighter and now with an updated 4-inch screen and 4G
Any new iPhone launch comes with spectacular fanfare but, when devotees have been waiting for a new design for two years, the world expects something special. The biggest change in terms of differentiating it from an iPhone 4/4S is the screen. The Retina display has been upped to four inches and brags a 1136×640-pixel resolution at 326ppi. Screen real-estate is noticeably bigger, with a line-more apps added to each home screen, movies now playing in 16:9 without letter-boxing and simply more to look at when browsing websites, playing games and using apps. However, developers will need to update their apps to avoid black bars appearing either side of their apps.
The iPhone 5 is also lighter and thinner; 112g and 7.6mm being the standout stats. However, while the aluminium/glass construction is gorgeous to look at, the reduction in weight also makes it feel less industrial, less sturdy. Personally, we prefer the weapon-like nature of the iPhone 4/4S.
To help with the size reduction, Apple has introduced a nano-SIM on the side, moved the headphone socket to the bottom and, more importantly, added a new 'Lightening' connector, which replaces the old 30-pin model. There's no difference in speed, it's just smaller. You can buy a £25 adapter for your old devices – there's not one in the box, regrettably.
Switch the phone on and you're presented with Apple's new iOS6 operating system. It comes with 200+ new features. Maps stands out from the bunch – it's completely remodelled, offers TomTom-like turn-by-turn navigation (for free), has a visually astounding 3D mode and allows you to 'Flyover' popular landmarks – rotate the screen for a full 360 experience.
Siri has also had an upgrade, now boasting the ability to launch apps and post Facebook entries by voice.
Another upgrade is with the phone's two cameras. While the back offers the same 8mp lens, it now features improved HDR, panorama shooting and better results in low-light. Our experience showed better shots in good light but grain remained in darkened environments. The front cam is markedly better – 720p video recording being the standout feature. You can also FaceTime over 3G (and 4G when it arrives), which should give FaceTime a new lease of life.
Apple has thankfully upgraded its old earphones to the new EarPods, which are a huge step up in design and do sound better. You'll find them in the box.
Performance-wise, the new A6 chip makes using the phone faster and slicker. You can really see the benefit when editing photos and videos straight from the device. When optimised apps and games are launched, it will also be a standout point from the older models.
As mentioned earlier, this phone is 4G LTE compatible and also offers improved Wi-Fi.
In our tests battery life seemed to mimic that from the 4S – but that's quite an achievement considering this is a more powerful, lighter and slimmer phone. Apple quotes 8 hours 3G browsing time, 8 hours talk time and 10 hours video playback time. Expect a little less on all counts.
So, should you upgrade? If you've got a 4S, then updating to iOS6 will give you many of the software features found on the iPhone 5. More importantly, however, is how competing phones have caught up in the last year – the Samsung S3, Nokia Lumia 920 and HTC One X being standout devices, giving Apple's latest a real run for its money.
From £529 (available in 16Gb, 32Gb, and 64Gb models) www.apple.com/uk