Two-Day Italian Festival Gets Set To Pull In The Crowds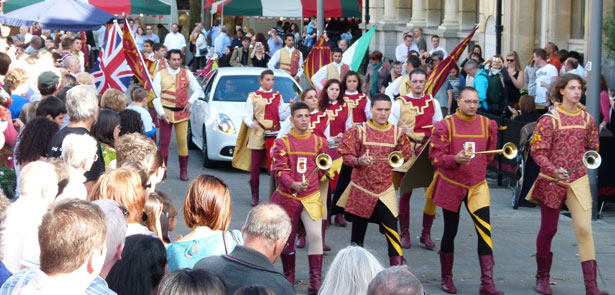 This weekend Peterborough is going to be just "fantastico" as it gets set for the first ever two-day Italian Festival
Thousands are expected to head to the city centre for the extravaganza and join in all things Italiano!
The  fun starts at 12noon in Bridge Street this Saturday, with a pizza making demonstration by Papa Luigi's, the city-based company which started the first ever pizza delivery service in the UK.
Passers by can stop and have a go or take part in the World Pizza Eating Championships, and children can 'take and bake' a pizza. Mattoni's will also be cooking pizza from a traditional wood stove in Cathedral Square.
In the evening a pop up restaurant courtesy of Riva's will take pride of place in the Cathedral Square for a five-course feast of Italian cuisine – not to mention a string quartet and performance of traditional Italian song.
Events on Sunday begin with traditional flag throwing from Florence. There will be music throughout the afternoon from the open air stage in the square.
During the afternoon the celebrity Italian chef Gino D'Acampo will arrive in the city in an Alpha Romeo Giulietta, supplied by Donalds of Peterborough. He will be appearing on stage at 3pm and then meeting stall holders followed by book signing at Barista's Cafe in St Peter's Arcade.
 
As well as the culinary delights – top chefs are coming direct from Peterborough's twin town of Forli – there is also an array of Italian scooters, motorcycles and cars including a Ferrari memorabilia stand on display over the weekend.

Other 'magnifico' highlights
• Food tasting with Frankie and Benny's
• Bags containing ingredients to make dish marking 20th anniversary of The Pasta Shop
• Zepole – Italian doughnuts  – by Foggia
• Mamma Mia Italian Market
• Ferrari memrobilia
• Birra Moretti stand
• Ice cream by Riva
• Pizza slices from Papa Luigi's in aid of the Mayor' Charities
• Italian sausage dish by Ristorante Fratelli
• Stoneacre Fiat Cars
• Motorcyles Vespas and Asprillas by Wheels
• Peterborough Lambretta Vespa Scooter Club
Thousands are expected to head to the city centre for the extravaganza and join in all things Italiano!
Annette Joyce, Peterborough City Council Head of Commercial Operations, said:
Last year's event was so successful that it was decided to increase the festival from one to two days. The festival has fast become one of the most eagerly awaited events of the year in Peterborough and this weekend it is going to be packed to the brim with activities and attractions.
Carmela Cocozza, the Italian Community Association Cultural Events Organiser, added:
There was a real appetite for extending the festival. It was very busy and very successful in 2011 and more businesses and people expressed great enthusiasm and a real desire to be involved.
Luigi Manna, who also represents the 10,000 strong Italian community, said:
This is the fourth festival to be held in the city and it promises to be bigger and better than ever. So get on down to Peterborough city centre this weekend and enjoy a little of the Italian sweet life 'la dolce vita' – style!
Leave a Reply