Twelfth Night at Tolethorpe Hall – June/July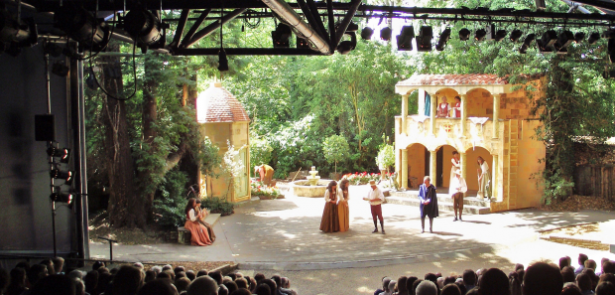 Stamford Shakespeare Company is performing Twelfth Night at Tolethorpe Hall on various dates in June and July 2012.
This is part of The Stamford Shakespeare Company's annual season of plays in June, July and August at the Rutland Open Air Theatre in the grounds of historic Tolethorpe Hall just off the A1, two miles north of Stamford..
A stage set in a truly enchanting glade, a company of fine amateur actors, stunning sets and gorgeous costumes, the magic of Tolethorpe begins the moment you take your seat on a warm summer evening in what is widely recognised as one of Europe's finest open air theatres.
Don't worry, you'll be comfortably seated and protected from occasional summer showers, beneath a permanent all-weather canopy. It's the perfect setting to enjoy the works of the world's greatest playwright. Enjoy all the comfort of an indoor theatre with the charm of an open air setting.
Enjoy a picnic on the extensive lawn before hand or opt for a pre-performance meal in one of the two elegant restaurant rooms in the historic hall.
Twelfth Night is widely regarded as Shakespeare's finest comedy is a merry tale of unrequited love, shipwrecked twins, mistaken identity and drunken revels. The comical love triangle of Olivia. Orsino and Viola who is disguised as a boy, is further complicated by the arrival of her twin brother Sebastian. In addition, the hilarious antics of the roguish drunkard, Sir Toby Belch, the foppish fool Sir Andrew Aguecheek and the sanctimonious puritan Malvolio, will amuse, delight and entertain.
The full schedule of performance dates for 2012 can be found here.
Tickets:
£12.50 (Monday/Thursday),
£15 (Friday), £18 (Saturday)
£10 (Preview Nights – 4 & 5 June, 12 & 13 June, 3 & 4 July).
Matinée – Adult £12, Child £7
Find out more and book –
www.stamfordshakespeare.co.uk
Stamford Arts Centre box office 01780 763202
www.stamfordartscentre.com
Time(s): 19:45 – 23:00
Location: Tolethorpe Hall Theatre,
Tolethorpe Hall, Little Casterton,
PE9 4BH
Stamford
Leave a Reply