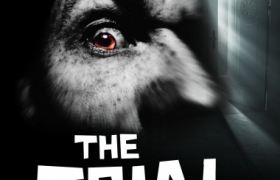 On Tuesday 13th March 2012 Blackeyed Theatre presents The Trial by Steven Berkoff – Adapted from the novel by Franz Kafka.
Joseph K, an estranged and rootless citizen, is the victim of anonymous governing forces beyond his control. Deceived by authoritarian power, he is relentlessly hunted down for a crime that remains nameless. Finding himself arrested and awaiting trial, K sinks deeper and deeper as he tries to escape through twists and turns that are at once shocking, thrilling and funny.
More than forty years after its first performance, Steven Berkoff's brilliant adaptation of Franz Kafka's masterpiece has become a classic work of twentieth century theatre and a widely studied syllabus piece. Kafka's universal parable about the human condition is retold in Berkoff's startlingly original, fresh and endlessly surprising play, which Blackeyed Theatre brings back to the stage in their inimitable way.
Kafka's nightmare vision, Berkoff's crackling script and Blackeyed Theatre's trademark ensemble-style physical theatre combine to create an inspiring and unforgettable piece of drama, ideal for lovers of pure theatre and those studying the 'Berkovian' theatre style.
"Quite why Steven Berkoff's version of Oedipus has not been performed since it was first published in 2000 is maybe that it was just waiting for Blackeyed Theatre to do it full justice. It has been worth the wait…" – The Stage
"One of the most innovative, audacious companies working in contemporary English theatre" – The Stage
"Magnificent…Extraordinary…As haunting as it is harrowing…Astonishing power… Any assumption that Oh! What a Lovely War is a period piece is shot to shrapnel. Forty years on, we need Littlewood's vision more than ever. Blackeyed Theatre restore it to us with astonishing power. Catch it if you can" – The Stage
Suitable for age 14+
Running time is 2 hours approx.
Tickets cost £12 (£8.50 for students).
Find out more and book tickets: http://www.vivacity-peterborough.com/event/the-trial or call 01733 207239.
Leave a Reply