MUGENKYO TAIKO DRUMMERS – Sunday 20th May 2012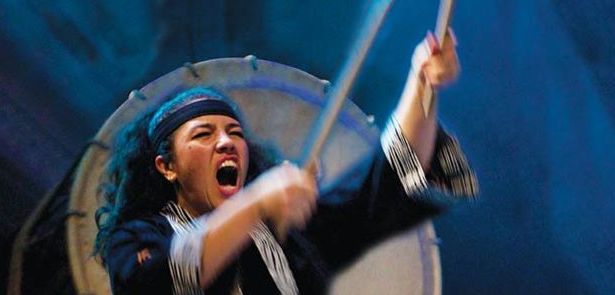 THUNDERING RHYTHMS, EXCITING CHOREOGRAPHY & HIGH ENERGY
Mugenkyo Taiko Drummers will be on tour in the UK in May 2012, with their full concert of powerful taiko rhythms, huge drums, striking choreography and atmospheric percussion, presented in a dramatic & theatrical stage show.
Last year they thrilled the 40,000-strong audience at London's Proms in the Park, as well as pushing the boundaries with a collaboration with the Scottish National Jazz Orchestra at the London Jazz Festival. Their 40-date autumn 2011 concert tour concluded with a standing ovation at the prestigious Edinburgh Usher Halls.
This spring's tour sees the return of special guest, New York based flautist and shinobue player Nobuko Miyazaki who made such a big impact on the group's autumn UK tour last year.
The year 2012 is an important one for the group, as the two founders of the group, Neil Mackie & Miyuki Williams celebrate 20 years since first travelling to Japan & starting on their Taiko path. The group will also be performing in Japan in July at the Extasia Festival, and are hugely honoured to be able to represent European Taiko at the foremost Taiko festival.
Sunday 20th May 2012
Key Theatre
7.30 pm
01733 207 239
Ticket prices: £18 / £14 / £10 U18's / £13.50 KEY.IP / £46 Family
Leave a Reply