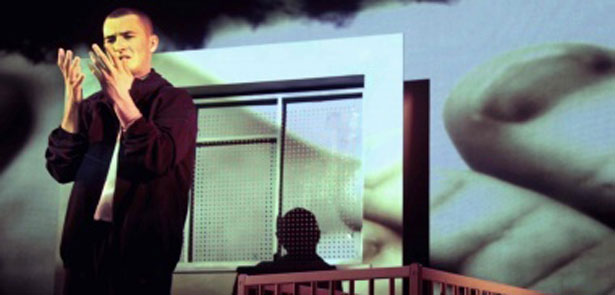 "She doesn't feel like my mum. She doesn't do things mums do. She gets leathered and smacked up and tries to shag my mates."
Nottingham – 1998. Nineteen year-old Mark is living a life he never signed up to. Heavy with the responsibility of caring for his broken mum and her baby and pining for a past of Panda Pops, eggy bread and Brian Clough, Mark knows he has to do something drastic – But will he make the chilling choice that will change things forever?
An achingly honest portrayal of a boy struggling to find his place in a world that doesn't want him. Bones will break your heart, spit you out and then make you wonder why you cared in the first place.
NOMINATED FOR BEST SOLO PERFORMANCE – The Stage Awards for Acting Excellence
'Storytelling to perfection… shockingly realistic…Left me agape in wide-eyed awe.'
Three Weeks
'Believable, powerful and quite genuinely heartbreaking.'
Fest Magazine
Age 14+
Contains strong language
Tickets £10 (£8 Concessions)
Bones will be performed at The Key Theatre, at 7:45pm.
To book your tickets online click here
Or to book over the phone please contact the Key Theatre's Box Office on 01733 207239
Tickets On Sale Now
Key Theatre
Embankment Road
Peterborough
PE1 1EF
Leave a Reply