Success For Oundle International Festival Despite The Rain!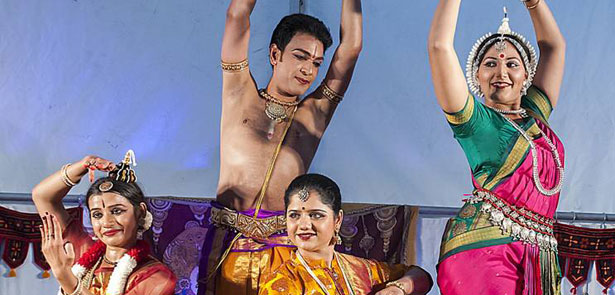 This year's Oundle International Festival has been hailed a phenomenal success despite the disappointment of having to cancel Picnic in the Park
The rain may have been lashing down, but the team at Oundle Music Trust refused to let it dampen their enthusiasm to host a truly world-class Festival with diverse, inspiring performances. The atmosphere amongst audiences and performers alike remained buoyant throughout the week and the level of ticket sales surpassed expectations.
Susan Lansdale, Director of Oundle Music Trust, says:
This has been a tremendous Festival with high quality performances in classical, jazz, world and folk music, and a range of participatory events, from the Festival Chorus, talks and visits, to our family fun day, Passport to Music. We have seen that our audiences enjoy new ways to engage with music, which stimulate a greater appreciation and understanding, as well as the opportunity to socialise. This will help the Trust to focus on providing a vibrant programme of music projects and performances in the future for people to enjoy.
Says Susan Lansdale, Director of Oundle Music Trust.
Highlights of this year's Festival, which ran from 13 to 22 July, included Annapurna Indian Dance, The Darius Brubeck Quartet, a children's theatre performance of The Twits, Aurora Orchestra and Passport to Music – a musical treasure hunt around Oundle to a variety of fun workshops for all the family.
Picnic in the Park, which was due to take place on Saturday 14 July with ABBA act Björn Again headlining, sadly had to be cancelled because of waterlogged fields. This decision was not taken lightly, but with the health, safety and enjoyment of concertgoers the organisers' primary concern, they unfortunately had no choice but to cancel.
Getting the message out about the cancellation to all Picnic in the Park ticketholders was no mean feat, but Oundle Music Trust is delighted to reveal that out of the thousands of concertgoers due to attend, only one family turned up on the day. They were met personally at the gate by Director Susan Lansdale who explained what had happened and directed them straight to the Box Office so that they could claim their refund immediately.
A big thank you to everyone for their patience and understanding following the cancellation of Picnic in the Park. It was devastating for us to have to cancel Picnic in the Park. We hate to disappoint our customers and obviously the event represents months of planning and hard work for us, but unfortunately the weather and ground conditions left us with no choice.
A full refund is available for all Picnic in the Park ticketholders but you do have to visit the Box Office at 4 New Street or call 01832 274734 to claim your refund. Unfortunately, the organisers are unable to make automatic refunds because of data protection issues regarding credit card details. The majority of ticket refunds have now been made, with only 20% remaining to be repaid. So if you haven't claimed yours yet, Oundle Music Trust would be grateful if you could do so prior to their summer shutdown on Saturday 28th July. The Box Office will be open every day until then between 10am and 1pm.
Lynda Purser, Chair of Oundle Music Trust, adds:
It was very unfortunate that we had to cancel Picnic in the Park, but we have had a great Festival with more than 30 other well-attended events. We have been so much encouraged by the goodwill and support shown to us over the past two weeks. Many people have come forward to support us, but we need even more to help provide Oundle, and the surrounding community, with outstanding musical experiences in the future. The Board is excited about new plans and opportunities, and will be working hard with Director Susan Lansdale to drive these forward.
Next year's Oundle International Festival will run from 12 to 21 July 2013.
Leave a Reply