Peterborough Male Voice Choir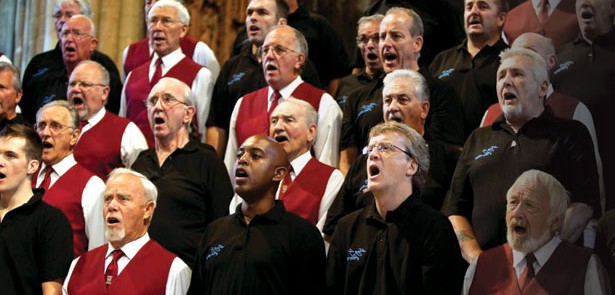 Choir hits the right note in the city
Peterborough Male Voice Choir is fast becoming one of the city's most popular attractions both to listen to and join – membership has doubled over the past year. Singers come from a wide and diverse range of backgrounds and ages. The youngest member is 17 and the oldest in his 80s. All you need is a good pair of lungs. The choir meets weekly on Monday evenings at St Andrew's Church in Netherton and performs about 10 concerts a year. Musical director William Prideaux, who took over in January, has transformed the choir but is still keen to welcome new singers.
"We work very hard to make choral singing accessible to as many men as possible," said William. "We pride ourselves in welcoming singers with differing levels of ability, and are very supportive towards newcomers. But most important of all, we make it fun and friendly.
"If anyone is interested but worried their singing isn't up to standard they shouldn't be put off. Just give it a go. I promise you we can work with most people." When William took over he was keen to build on the 35 regulars in the choir. He led a recruitment drive, which culminated in a charity concert, Sing for Heroes, at Peterborough Cathedral in July. "We had 90 inquiries as a result of our recruitment initiative and there were 60 men in the choir for the Sing for Heroes concert," he said.
"There were over 1,000 people in the Cathedral that evening and we raised £10,000 for Help the Heroes."
Because of the concert's success, the charity event is being repeated on July 16 next year when Britain's best-loved soprano Lesley Garrett will be making an appearance as a soloist performer.
It promises to be a busy 2011 for the Peterborough choir, which receives financial backing from sponsors Roy Thornes Solicitors. As well as the Sing for Heroes concert it has been invited to perform at the Cornwall International Male Voice Choral Festival in May. And if you prefer listening to taking part, there are a couple of opportunities to hear the choir in action before Christmas – see right for details.
If you're interested in joining, call membership secretary Richard Holloway on 01733 232596 for an informal chat or email . Alternatively, go along to St Andrew's Church, Ledbury Way, Netherton, between 7.45pm and 9.45pm on a Monday evening.
Leave a Reply