NEW YEARS EVE – December 8th 2011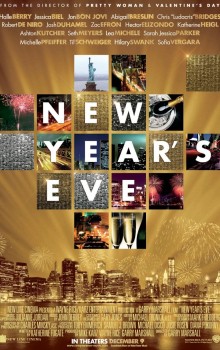 Director Garry Marshall and a stellar ensemble cast will ring in the 2011 holiday season with the romantic comedy "New Year's Eve."
Celebrating love, hope, forgiveness, second chances and fresh starts, 'New Year's Eve' intertwines stories of couples and singles, told amidst the pulse and promise of New York City on the most dazzling night of the year. Starring Jessica Biel, Jon Bon Jovi, Abigail Breslin, Chris Bridges, Robert De Niro, Josh Duhamel, Zac Efron, Katherine Heigl, Ashton Kutcher, Lea Michele, Sarah Jessica Parker, Michelle Pfeiffer, Ryan Seacrest and Hilary Swank.
Director: Garry Marshall
Certificate: 12A
New Years Eve Trailer (2011)