In The Midnight Hour At Peterborough Museum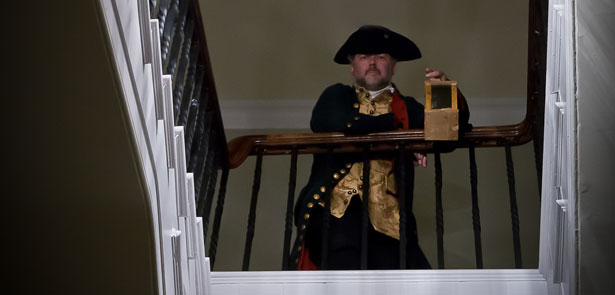 Reputedly the most haunted building in the city, with many ghosts said to be lurking along its dark corridors, Peterborough Museum is opening its doors to only the very bravest ghost hunters…
Back by popular demand, you can join the All Hallows' Eve Midnight Tour on Thursday, 31 October, from 11.50pm. By candlelight alone, explore some of the spooky stories and discover areas of this Georgian building not normally open to the public. Then there's a chance to join in a ghost hunt around until 4am. Will you see anything?
No fewer than eight different ghosts are said to haunt the building's many rooms, and given the museum's long and varied history, this is perhaps not surprising! Will you meet the 'Lonely ANZAC', the First World War soldier Thomas Hunter who died in the building in 1916 when the museum was the city's hospital?
Or perhaps you might spy the ghostly kitchen maid who fell to her death on the back stairs (not normally open to the public). Did she fall, did she jump, or was she pushed? Plus dare you head down into the eerie Tudor cellar where slamming doors, strange noises and sightings of a hooded figure have all been reported?
Stuart Orme, Heritage Interpretation Manager for Vivacity, says
This is a great opportunity to explore Peterborough's spookiest location on what is said to be the most haunted night of the year. If you're brave enough to come on a ghost hunt with us this Halloween, who knows what spooky activity you may experience!
Peterborough Museum's All Hallows' Eve Midnight Tour will set your spine tingling! It will be held on Thursday, 31 October, from 11.50pm. £25 per person. Strictly over 18s only. Places are limited, so to avoid disappointment book your tickets today! Call 01733 864 663 or email
Leave a Reply