Reach For The Stars With The Peterborough Astronomical Society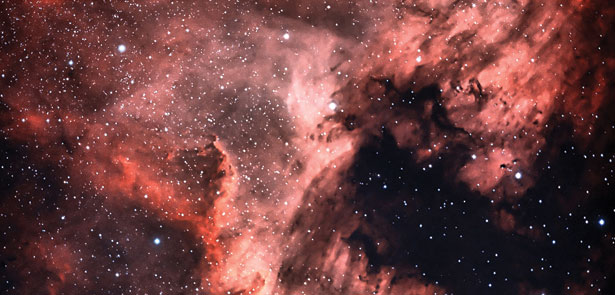 …or at least gaze up at them in wonder. And if you want to take your enthusiasm for space even further, then the Peterborough Astronomical Society will be happy to help inspire you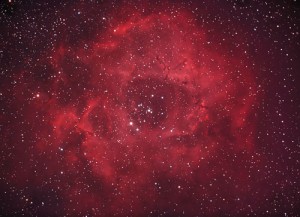 Earlier this year, something quite extraordinary happened at Flag Fen, the historic Bronze Age site just outside Peterborough. As part of the BBC's Stargazing LIVE series of programmes, broadcast over three days, the venue hosted its own evening event, offering the people of Peterborough the opportunity to come out and scan the night skies for themselves, at a location without any of the usual light pollution found in urban areas. Flag Fen was just one of several places across the eastern region participating in Stargazing LIVE, but it turned out to be the best attended. Despite the coldness of the night, within the first hour, almost 200 people had turned up. By the end of its three hour duration, over a thousand people had come along, to look upwards into space and hear tales of how the ancient people who once occupied and worshiped at Flag Fen were also fascinated by what was above them. Where better to learn about stars and the night sky than at a place where exactly the same thing was happening 3000 years previously?
The sheer popularity of the event took everybody by surprise.
We were delighted to host the BBC's eastern region Stargazing LIVE and seeing the volumes of people that turned out for the occasion exceeded our expectations and really made the evening special
said Sarah Stannage, Heritage Services manager for Vivacity, the charitable trust that runs Flag Fen. It also astonished and pleased the group that was at the centre of things that night, Peterborough Astronomical Society (PAS). Members were on hand to chat to the public, demonstrate their telescopes, show their photographs and discuss all aspects of the hobby. One, archaeologist Katie Davenport-Mackey, delivered a talk on the significance of the Nebra sky disk – a 3600-year old historical artefact discovered in Germany in 1999 and generally considered to be the world's oldest portable astronomical instrument – to a fascinated audience.
No-one imagined for one moment that there would be a response like we got. We appreciate that the words 'free' & 'BBC' tend to have a dramatic effect, but those members of the public who talked to us were very enthusiastic and curious as to what we do. The majority of the feedback from our members has been that most people had a very enjoyable time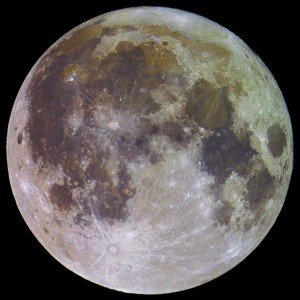 Perhaps the surprise wasn't, um, that surprising. Before the days of Stargazing LIVE and Dr Brian Cox moving bits of his lunch around tables to illustrate the passage of the planets to an adoring TV audience, before the world followed the adventures of NASA's Curiosity Mars lander with such intense interest and universally mourned the passing of a giant like Neil Armstrong, astronomy was perhaps regarded at best as the sort of restricted activity where you had to spend hundreds or thousands on expensive optical equipment to get involved. At worst, it was seen as geeky and nerdy, a solitary hobby for those whose idea of entertainment was an evening of Sir Patrick Moore and The Sky at Night reruns. The PAS is keen to dispel these myths; the club has a membership spanning ages 16 to 70 from all walks of life. And you definitely don't need a telescope to join. The PAS welcomes anybody and everybody, just so long as they have an interest in the stars.
EARLY DAYS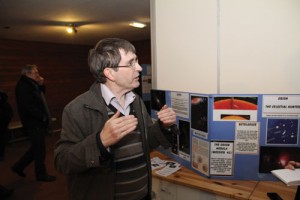 It was in 1990 that the Peterborough Astronomical Society was formed, in response to a local newspaper article by Christine Wakelin that asked why the city didn't have such an organisation already? "Five of us answered her and met up at her house, and the society was formed there and then" says Brenda Kilby, one of the founder members. Even at that early stage, it was a diverse group, with not everybody having telescopes. "Just as it is now, it was a cross section of people; you get people with a lot of knowledge, people with little knowledge, those with technical knowledge and those without. But, everybody has an interest in the stars and that's the main basis. Whatever knowledge you've got, you help other people along"
But, back then, the hobby was seen as far from cool or accessible.
When I started, we were totally isolated, the people who were into astronomy. You were told to shut up and you were boring and to get in the corner. But the more the society has gone on and the older I've got, the more interest there has been in space. Children are now getting far more involved than they ever were, with the subject being taught at junior schools
This has gone hand in hand with the greater availability of equipment and knowledge. "Sales of telescopes have shot up in recent years (Amazon sold four times the normal number during Christmas 2011, ahead of Stargazing LIVE) and the price of equipment has come down," says PAS vice chairman Martin Hall. "Plus there are lots of websites now where you can get secondhand items at reasonable prices; this has put it into the scope of people on a much wider basis." Website administrator Phil Shepherd agrees about the benefits of the worldwide web. "Since the internet has matured, it's much easier to find things out. Before you had to ask somebody. Now you just look it up on the web"
However, believes PAS chairman John Mackey (whose love of astronomy comes, in part, from meeting and being inspired by Buzz Aldrin when he was 17), while the internet is a useful tool, it's still no substitute for joining a proper group.
You can stay at home, get all your information from the internet and that's your club. But coming out to a society, it's better to chat with other people with the same interests rather than just be isolated at home. We're not a bunch of boffins, just ordinary people with an interest. And there's a very social side to being part of the society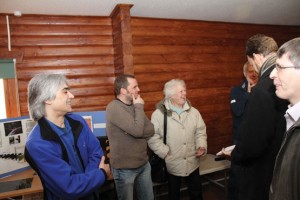 During the early days, the PAS met at the house of a member Bill Cowley, who had spent £5000 building his own observatory in his back garden. Other activities included taking turns to help another member grind his mirror. "And there were quite a lot of meteor watches too," continues Brenda. "They're excellent value in the summer but damn cold in the winter. We used to take along our sun loungers and set them up for the night." Trips have included the National Space Centre at Leicester and Astrium in Stevenage, where the UK's Blue Streak rockets were constructed in the 1950s and which now designs and builds spacecraft and satellites.
The society's regular meeting places have shifted around Peterborough, with the Eye Community Centre the first venue for members to gather. But it soon became apparent that there was little chance of any star watching due to the bane of every urban astronomer's life, light pollution from streetlamps and houses. The base then moved to Sacrewell Farm where the night skies were far more accessible but a rise in rent sent the PAS back to the city again and the Millfield Community Centre. It was easier to get to for members but, again, light pollution reared its ugly head. Subsequent relocations saw the society relocate briefly back to Sacrewell and then onto the Lakeside Centre on Orton Longueville School campus, where it stayed for 10 years until it was closed. The Millennium Centre at Castor was the next base, with the ability for telescopes to be set up alongside the Norman church there. The site offered the best astronomy conditions the members had ever known but, alas, increasing rent made it difficult to stay there. The club now meets at the Copeland Community Centre in Bretton, although still makes occasional forays to Sacrewell for observation evenings. Talks from experts are also part of the regular programme of happenings throughout the year. The compromise between trying to find a venue that offers great views of the night sky but is also accessible for members is a difficult one. "We were astounded at the Flag Fen event," says treasurer Keith Townsend. "You look out over Eastern Industry and it is typical Peterborough skies, then you do a 180 degree turn and you get beautiful clear skies." The society is hopeful that it can hold more events at Flag Fen and perhaps even make it home eventually. That would be very welcome for Keith who recently sold a lot of his equipment in protest at the local leisure centre in Deeping St James leaving its floodlights on permanently, even when games aren't taking place and despite pleas to the council. "It's 150 metres from where I live and it's just ruined the night sky there."
SPECIALIST KNOWLEDGE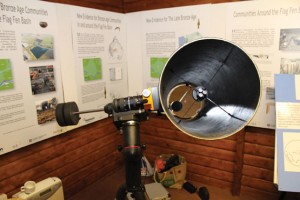 One thing that did become apparent at the Flag Fen Stargazing LIVE evening is how many people have telescopes but don't really know what to do with them, as many don't even come with instructions. "They are incredibly disappointed if they go out and buy one, but they don't know how to set it up or use it," clarifies Phil. "We had people contact us before the event saying that they'd had 'scopes for years and could they bring them along so we could set them up properly? We actually had queues for that." Different telescopes also perform different specialist roles. "Some people spend thousands when all they want to do is look at the moon," says John.
But these days, having a telescope isn't a prerequisite for astronomy at all. "One person asked me if you had to have a telescope to join?" says John. "There are many of our members who actually don't. But they're interested in astronomy and they come along to get other information on what the planets are doing, what the sky is doing, and so on. The person in question seemed really surprised when I said that"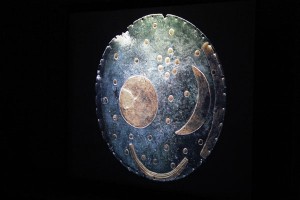 Away from the scourge of light pollution, the heavens above become more vibrant with many features observable by the naked eye. Pleiades (also known as the Seven Sisters), an open star cluster with a faint blue haze to it, can usually be made out during clear winter evenings, as it's one of the closest clusters to earth at a comparatively mere 390 to 460 light-years away. Of course, a single light-year measures a smidgeon under 5.9 trillion miles, so you might want to resort to even just a basic set of binoculars to enhance things a little bit more! In fact, John recommends secondhand binoculars from eBay as the first bit of equipment for those completely new to astronomy – even the moons of Jupiter become visible using a pair, if lodged against something to keep them perfectly still. "If that works and interests you, then you can take things further," he says. For a more permanent record, a digital camera with a decent zoom lens, set up on a tripod, can take reasonable enough photos of the night sky. And you can even track planets from the comfort – and warmth – of your own living room, using just a computer. Chris Holmes, the Peterborough man who helped find a new planet the size of Neptune during Stargazing LIVE, was one of the visitors to the Flag Fen event. His discovery was made using his home computer and sifting through data on the Planethunters.org website, which hosts information from NASA's Kepler space telescope. "I've never had a telescope. I've had a passing interest in where things are in the sky, but never had any more knowledge about it than that" Why buy your own expensive telescope when you can simply borrow NASA's $550 million one instead, uncover a new planet, and have it named after you?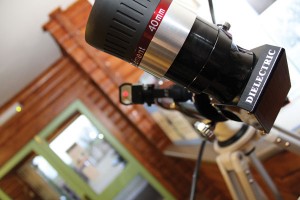 Of course, if you do want to commit to the hobby, modern technology has made being an amateur astronomer these days a boon. John has produced some stunning photographs of space using an ordinary Canon digital SLR camera, albeit with modified internal filters to allow in extra light, attached to a telescope that automatically tracks stars across the sky as it takes a sequence of shots. Canon now even sells one of its enthusiast cameras, the 60Da, optimised for astrophotography with a modified infrared filter and low noise sensor as standard. Other society members shoot through a telescope, using a webcam (including, appropriately enough, the PAS's web administrator Phil Shepherd) to get similar effects. The resultant astonishing images, some of which have been published in specialist magazines, look like they could have been taken by something like the Hubble Space Telescope but no. This is all using equipment now readily available to the dedicated stargazing amateur.
However, whatever your level of technology, interest or knowledge, you'll find it all catered for and encouraged by the members of the Peterborough Astronomical Society, whose passions for the wonders of space are infectious, encouraging and inspirational.
Everybody is welcome
sums up Katie Davenport-Mackey.
You can be of any age and ability; we're just a really friendly bunch and love astronomy. That's all there is to it, really
A beautifully modified version of an Orion Europa 250mm Newtonian reflecting telescope.
The 10 inch diameter of the primary mirror (seen here at the base of the tube assembly) gives the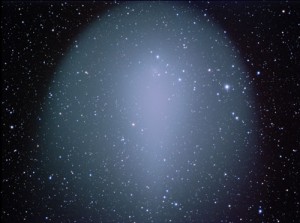 scope its light-gathering capability. The larger the diameter (or aperture) of the mirror, the more visible light it can reflect upwards to the secondary mirror. The secondary mirror then reflects the light towards the eyepiece mounted on the side of this tube. The more light your scope collects, the brighter and more detailed the image.
Budget telescopes for beginners that boast high magnifications may sound super impressive, but it's the aperture/diameter of the objective (the primary lens or mirror that collects and focuses the light) that really matters. Remember, the more light your telescope collects, the brighter the image and the more detail you'll be able to see. This is really important if you want to observe faint objects.
Peterborough Astronomical Society meets on the first Thursday of every month from September through to June at the Copeland Community Centre in Copeland, South Bretton, Peterborough. Meetings usually start at 7.30pm. In addition to the regular nights, there are also guest speakers, film shows and observation events. The non-member meeting entrance fee is £2.50, while yearly membership costs £25.00 for an employed person or £10.00 for the unemployed or old age pensioners. The society's website is at www.peterborough-as.co.uk
Leave a Reply