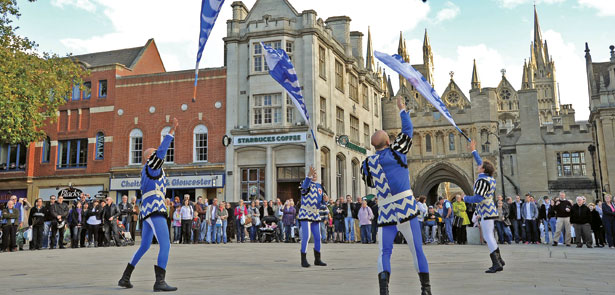 It was 2009 when Marco Cereste – leader of Peterborough City Council, and Chairman of the Italian Community Association (ICA) – first suggested an Italian festival for the city. It was the 25th anniversary of the ICA, so the story goes, but really any excuse would have been fine
The Italian community in the city does very well. It's integrated, it's successful, and we ran events on a monthly basis, and it just occurred to me that it would be really nice to run something for the city to try and bring all the communities together and enjoy a flavour of Italy.
With the support of Peterborough City Council, on one Sunday in September, the ICA did just that. Much fresh Italian food was eaten, much Italian wine was drunk, and as Marco modestly puts it: "It seems to have worked quite well."
Now in its fourth year, the festival has grown from a one-day event to a weekend affair – 15-16 September this year – with Papa Luigi's selling pizza slices for the Mayor's charities throughout the Saturday, and riverside eatery Riva creating a bespoke, pop-up restaurant in the cathedral square on the Saturday night. Other attractions over the weekend include Gino D'Acampo live on stage, flag throwers from Florence, a genuine Italian market, cookery demonstrations by chefs from Forli (Peterborough's twin town), Vespa and Lambretta displays, Italian holiday offers from Britaly Travel and Italian car memorabilia.
Not surprisingly, food plays a central role in the proceedings, with Peterborough's Italian restaurants coming out in force. Mattoni, Riva, Ristorante Fratelli, Barista, Papa Luigi, The Pasta Shop are all offering tastings of their wares, while Papa Luigi is also hosting 'take and bake' pizza making for kids and the World Pizza Eating Championships (that's one you won't find at the Olympics).
 That's what it's all about enjoying a bit of Italian food, a bit of Italian music, having a glass of Italian wine and all of us having a bit of fun together
This sense of inclusiveness is key to the festival's success. As Marco is keen to point out, You don't have to be Italian to take part – it's open to anybody who has an Italian product – and you certainly don't have to be Italian to enjoy it. Chris Falco, proprietor of Riva – who last year dished up over 1,000 meatballs to eager festival-goers – explains:
That's the really nice thing about the city. It started off with the idea that an Italian festival would attract an Italian audience, but the audience we saw last year couldn't have been more diverse.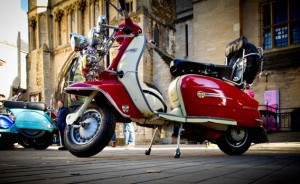 Italian food has now become so much part of the city's culture that it has earned it the nickname "Pizzaborough". But it would be very wrong to dismiss this simply as a joke. In 1982 Papa Luigi's established the UK's first pizza delivery service right here. The fact that they are still flourishing and a leading light of the Festival says everything you need to know about them as a business – and, perhaps, says a great deal about the tenacity of those first Italian immigrants.
Let's face it if my parents had been well-off in Italy, they'd have stayed there. We're here because it was a question of making a living and putting food on the table. And I think if you understand what that is about, it shapes your basic character
One thing is certain: during the Italian festival there will be a lot of food on a lot of tables. One of the people making sure that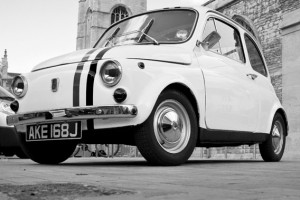 happens is Chris Falco. Last year, in addition to vast quantities of meatballs, he helped to cook a special menu created for the festival by leading Italian chef Antonio Carluccio. This year, keen to throw something fresh into the mix, Chris has embraced that spirit of innovation and is attempting something that has never been done in the city before. "We have a 200-seater pop-up restaurant on Cathedral Square on the evening of Saturday 15th September." This is a major undertaking. Everything needed to run a restaurant, including the cooking equipment, tables, chairs, cutlery, crockery, and glassware has to arrive on site on the day, and it not only has to work, it has to create all the ambience you would expect of a restaurant.
"We're going to do it with style," says Chris, "with the tables properly dressed and the marquee properly lit. And we're hoping we will be able to open one side of the marquee completely, to look out over the Guildhall, and the other side will be windowed, with a view of the cathedral." Starting at 7.00 for 7.30pm, the restaurant will be serving a full five courses, and there will be entertainment in the shape of two opera singers and a string quartet during dinner, with a firework display to end the evening. Tickets are pre-order only, and half had been booked before the tickets were even released.
So what can we expect from the festival in the future?
I just want to see it grow and grow. But what I'd really like to see is the other communities being inspired to do the same thing. Just think how fantastic it would be if other communities had a weekend or a day when they celebrated their own communities, their own cultures, and gave us the opportunity to learn. It would give the people of Peterborough the opportunity to understand what these new arrivals – and the more settled communities – are all about.
"We've been involved from the beginning," adds Chris, "and they've got bigger and better each year. That will be the challenge, to keep pushing it forward and making it fresh. Really, the only restrictions are the ones we put in place.
Annette Joyce, Head of Commercial Operations at Peterborough City Council, said:
This year's festival will be the best yet. It's the first time we've held it over two days and there will be plenty of attractions for visitors to enjoy. The team have worked hard with the Italian Community Association to ensure the city centre is transformed into our very own Little Italy. People will be able to get a real taste of Italy in every sense of the word and I'm really pleased how the event has flourished into one of the city's must see celebrations
To find out more about Peterborough Italian Festival, go to www.peterborough.gov.uk
Tickets for the Riva pop–up restaurant on Sat 15 Sept must be booked in advance and are available through Riva Restaurant  01733 894952
www.riva-restaurant.co.uk
Leave a Reply