Yin Yang – Chinese State Circus – 28 Jan to 29 Jan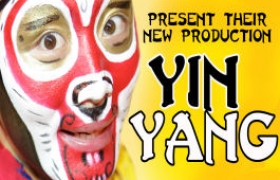 On Saturday 28th January 2012 and Sunday 29th January 2012 The Cambridge Corn Exchange features a spectacular new show from the Chinese State Circus.
From the land of legends and warrior Shaolin monks comes this incredible new production –  the live acrobatic show Yin Yang.
To say the Chinese State Circus is merely a show is grossly to underestimate it – it's nothing less than the embodiment of a traditional art form which can trace its history back over 2000 years. The presentation lives and breathes with the enthusiasm of its acrobatic artistes. The result is the purest, honest, most abiding and exhilarating circus on offer.
The undisputed masters of physical theatre will have the audience enthralled with a breathtaking fusion of precision acrobatics, martial arts and dazzling circus skills –  entertainment for the whole family.
'A show of daunting athleticism'  – The Observer.
'The most exhilarating circus it has been my privilege to see'  – London Evening Standard
You can catch the performance on Saturday at 5pm and then 8pm, and on Sunday at 2pm then 6pm.
Tickets range from £17-£25. A family ticket is available (2 adults + 2 children or 1 adult + 3 children) for £64. Students, Senior Citizens, Unwaged: £3 off
Find out more:
Chinese State Cuircus: www.chinesestatecircus.com
View the show on You Tube: http://www.youtube.com/watch?v=pZYk1YU8tPw&feature=player_embedded
Book tickets:
Website: www.cornex.co.uk/ccm/cornex/2012/chinese-state-circus.en
Tel: 01223 357851
Leave a Reply