The Company of Art – 30 June to 8 July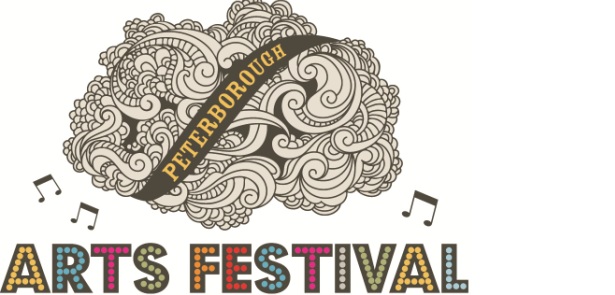 Peterborough Arts Festival is one of the biggest events of the year for the city. From its humble beginnings eleven years ago, it has grown into a major celebration of all that's best in art and culture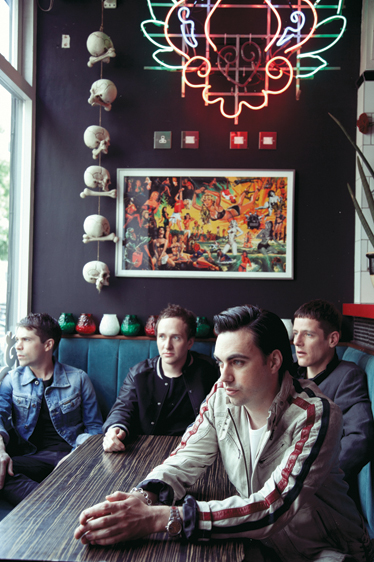 LAST YEAR MORE than 60,000 people flooded the streets and parks of Peterborough to revel in the carnival atmosphere at our Arts and Heritage Festivals. This year's Arts Festival will be a double celebration as the festival, which runs from June 30 to July 8, also coincides with the arrival of the Olympic Torch in the city. So prepare to be dazzled by an artistic assault of colours, sounds, spectacles and novelty as the City of Peterborough comes alive for ten days of culture, fun and partying.
When the Peterborough Arts Festival kicks off at 12 noon on Saturday, June 30, with a circus extravaganza in Cathedral Square, it will be the culmination of a full year's work for the small team of organisers behind the city's biggest annual event.
The Festival is organised by Vivacity, Peterborough's Culture and Leisure Trust, and the woman in charge of pulling it all together is Vivacity's Cultural Development Manager, Lisa Helin. Lisa has worked on the Festival since 2011 and has revelled in the challenge.
It takes a whole year to organise so we start planning the following year's festival as soon as the current one is finished. Normally, the festival finishes in July so we have the rest of that month to do the evaluation from that year's event and then we start planning again for the following year at the beginning of August. And with the festival growing in ambition all the time, that makes it even more complex to organise. It's been going for 11 years but the last two years has seen some major changes. Last year we had over 60,000 people attending festival events.
Sourcing, booking, and organising the vast and varied number of acts that will be performing at this year's extravaganza is a suitably impressive act in itself. And while a considerable number of those acts are local, the festival also has a truly international flavour with performers being prepared to traverse half the globe to take to the various stages in Cathedral Square and Central Park.
There's 52 different acts and hundreds of performers appearing over the whole festival period so that's quite a variety of entertainment. There are also, 32 local artists and arts organisations involved. Our acts are coming from all over the globe, and the furthest traveller is Shay Horay from New Zealand. He's a one-man act known as the Amazing Rubber Band Boy (a comedy daredevil who describes himself as "part man, part monster")!
It's fair to say that Peterborough hasn't always enjoyed a reputation as being a thriving centre of art and culture, but the increasing popularity of the festival is going a long way to addressing that perception as Lisa explains:
I think it helps create pride in the city and shows that it is a creative, vibrant city. Now there is so much going on in the city and the festival is the perfect opportunity for everyone to come together from all walks of life and enjoy themselves through all kinds of art. The sheer variety of art on show is extraordinary.
The festival is not only important in improving Peterborough's standing in the arts world, it also provides a huge boost to local pride, and to the local economy. 'I think it's very important to Peterborough as a whole' Lisa says. 'It's probably one of the biggest events that the city hosts all year. This years festival covers a ten-day period involving hundreds of performers; from local artists to community groups and international artists. It's a real celebration of culture in the city.'
It's a chance for local businesses to celebrate too as hotels, pubs, restaurants, cafes and fast-food vendors all enjoy a surge in business during the ten-days of festivities, though the city council has yet to put a precise figure on just how much money the festival generates for the local economy. 'That will be one of the parts of the evaluation we'll be doing this year' Lisa explains.
We're commissioning a specific type of evaluation to look at the economic value of the festival and how the festival brings money into Peterborough through tourism.
The double bonus is that, while the festival helps generate considerable sums for local trade, it doesn't cost anything to attend as most of the events are free to the public.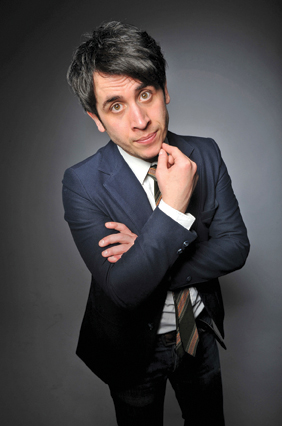 Festival funding comes from various sources. In addition to funding from Vivacity and Peterborough City Council, this year's title sponsor is local company Perkins Engines. The Festival is also supported by Arts Council England who are working with Vivacity to grow the event into a world class platform for artists and providing a strong arts focus for the city.
While the Peterborough Arts Festival enjoys its own feel and character, derived from the unique and eclectic mixture of acts that it attracts, Lisa says the organisers have taken inspiration from other events across the country, most notably the Out There Festival staged in Great Yarmouth. 'There are lots of very good festivals in our region but we work closely with the Out There Festival which is organised by SeaChange Arts. They're linked into a great network of European artists which gives us a good opportunity to secure the best work for Peterborough.
It's hoped that the Peterborough Arts Festival will also continue to gather momentum and gain recognition further afield in the coming years. 'We want to build on our regional reputation at the moment and aim to become a nationally recognised festival' says Lisa. 'People have really started to travel some considerable distances to come to Peterborough for the festival, so it's growing into a dynamic festival and we want to gain a national profile. 'I think the Peterborough Festival is unique in the diverse range of art forms it hosts – there really is something for everyone, from little children to adults, to come and enjoy. It's really about discovery; coming across new and exciting work and being entertained. And that's important because it's about people having a good time.'
The hugely varied line-up of top class acts for this year's event will go some way to making that progression, from regional to national, happen. Lisa reveals some of the highlights of what promises to be a hectic ten days of fun, culture, entertainment and art:
On Saturday, June 30, we've got The Giants coming to Peterborough; that's a giant mechanical elephant and a giant Fire Bird which will be stalking the streets of the city and entertaining people. They're made out of steel and welded together and powered by bicycles! The headline performance late afternoon on the opening Saturday is Cirk Isis with a high velocity circus performance, so there will be lots of acrobatics and trampolines and high voltage entertainment in the city centre that day. The Grannies will also be back performing on the Saturday afternoon. They were hugely popular last year so we've got them back for another appearance. They'll be playing in Cathedral Square.

Then we go into Festival Plus, which is the middle week, and one of the highlights of that will be Pete Firman from the BBC show The Magicians. He'll be doing a performance on July 4 at the Key Theatre. Peterborough's own Mark Grist – Rogue Teacher – will also be performing on the same day as will Vikki Stone from This Morning and Britain in Bed. All those acts are performing their new shows ahead of the Edinburgh Fringe Festival, so it's a unique chance to be the first to see them as part of our Off To Edinburgh series.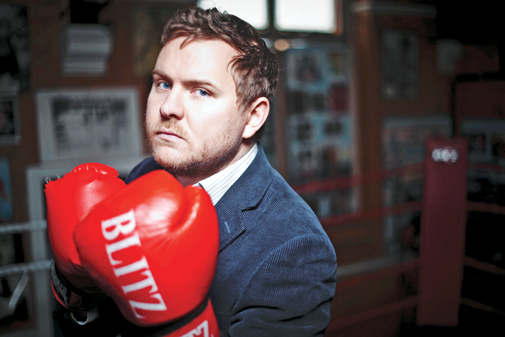 Trumping the world-renowned Edinburgh Fringe Festival? Not bad work for a 'regional event.' But there's much more besides Fringe acts at the Peterborough soiree. Central Park will form one of the main performance areas and will provide a perfect backdrop for a huge variety of acts and workshops. 'On Saturday, July 7, in Central Park we will be showcasing outdoor art and performance but all the other art forms will be represented too. So there will be an acoustic tent and a dance workshop tent, arts tents, crafts tents, and literary readings and talks by famous authors as well as live acts across the park. Kids will love exploring inside our 50-foot whale and they'll also have the chance to see shipwrecked pirates, real live mermaids, and the Insect Circus Museum.
We've also got Demon Barber's Time Gentlemen Please! (an act which turns traditional Morris Dancing on its head!) opening the festival on the Saturday and then in the evening the headline act is Hard-Fi who will be playing all of their hits as well as songs from their latest album, Killer Sounds. The workshops will all be undercover but the performance artists and live artists are all outside on the stages so we're hoping for good weather!'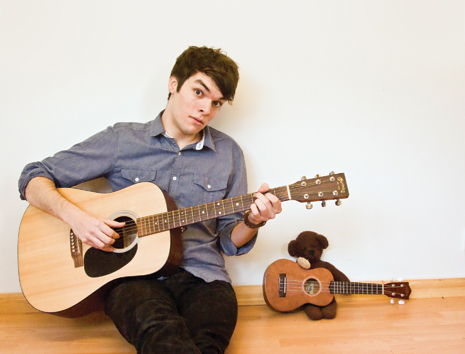 Details of the Olympic Torch's procession through Peterborough were still being kept under wraps at the time of going to press, but its presence will add another dimension to the festival and offer local people a further chance to celebrate and take pride in their city. The torch will arrive on Tuesday, July 3, and the festival will mark the occasion with a performance by Dutch artists, Close Act – a company of stilt-walkers, fire-throwers, dancers, musicians and acrobats – in Cathedral Square. There will also be an exclusive performance of the specially commissioned Song for Peterborough, led by Voyager Academy and with schools and communities from across the city singing alongside the Peterborough Male Voice Choir.
After ten days of non-stop entertainment and celebration of art, the festival will be brought to a close by a concert of classical music by Orchestra Da Camera in Central Park on Sunday, July 8. The theme for the concert draws on British themes for the jubilee so take a picnic, lay back on a summer's evening, and soak up all the Pomp and Circumstance of Peterborough's finest hour.
But as you make your way home afterwards, spare a thought for Lisa Helin and the Vivacity Arts team because they will already be thinking about how to outdo themselves and provide you with even more varied and extravagant entertainment next year!
LISA'S OWN PICK OF THE FESTIVAL HIGHLIGHTS
With dozen of events taking place across Peterborough during the ten days of the Arts Festival, it's impossible to list everything here, although keep an eye out for the free Festival Brochure available at Vivacity sites and other major outlets giving full information. However, Lisa has picked her own favourites from the varied line-up for The Moment. Every event is going to be special of course, but these are the ones Lisa herself really recommends as not to be missed…
SATURDAY 30 JUNE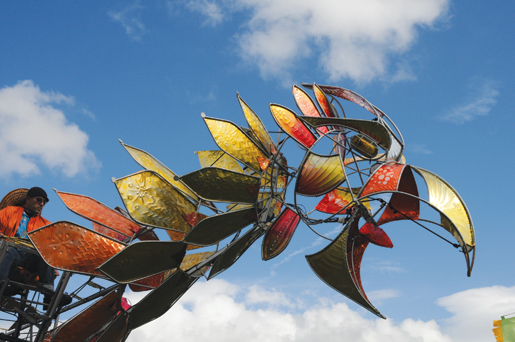 The opening day of the Festival sees Cathedral Square completely taken over by free acts from 12 noon until 5pm. Amid all the family fun, keep a particular eye out for Larkin About, Britain's only formation shopping trolley team composed of 'Doris', 'Marge' and 'Mary' as well as the fabulous spectacle of Cirk Isis, the finale to the opening day, who will be closing things with a spectacular mix of magic tricks, Cyr wheels, power stilts, robots and trampolining combined with poetry. Get yourself along if you want to see how that all works together. Elsewhere in the city centre, there will be The Hungry Turkey, which sees two eccentric ornithologists, Peregrine and Robin, go on a slapstick search for a giant mutant bird. They'll be enlisting the help of any members of the public to help them trap it, so watch out!

SATURDAY 30 JUNE – FRIDAY 6 JULY
As part of Festival Plus, Metal presents a pop-up cafe and arts venue at Chauffeur's Cottage for the Peterborough Arts Festival. Open daily 1pm – 4pm (with evening events too). Take time out of your busy festival schedule and pop into Cafe Valise to enjoy great coffee and choice of delicious cakes and sandwiches.
Take the weight off, mull over something you've just seen or use our information service to decide what to go and see next. With our gallery space, artists in residence, arts activities and rooms designed to provoke debate, we hope you'll find lots to interest and stimulate you while you're here, too.

TUESDAY 3 JULY
Olympic Torch Relay and Close Act.

WEDNESDAY 4 JULY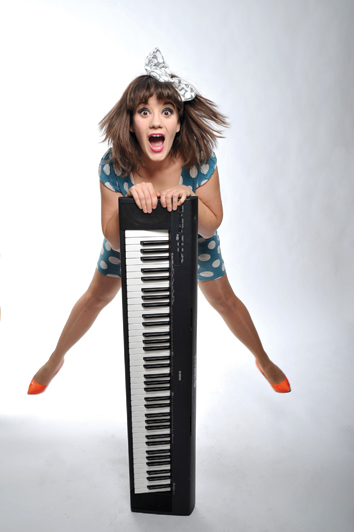 Do get tickets for the main house in the Key Theatre on the Wednesday of the festival, when there will be a taster of some of the acts heading for the Edinburgh Festival later this year. One of them will be Peter Firman, the UK's leading comedic conjurer, known for his appearances on BBC1's The Magicians and described by Time Out as 'More magical than Dumbledore on a good day.' Praise indeed. He'll be complimented by the madcap and multi-talented Vikki Stone, with her show full of pranks, comedy, singing and music. Both performances are appropriate for those over the age of 14, but suitable for the whole family and also at the Key on the same night (in the Studio space) is local Mark Grist, the Poet Laureate of Peterborough. He became an internet sensation when he quit teaching to take up rapping, but in a very inventive and different way.

FRIDAY 6 JULY
Take a free trip into a magical world of twists and turns at the Key Theatre as the entire building – both front of house and back stage – is transformed with variety acts including Les 3 Point de Suspension, Abi Collins, Dizzy O' Dare, Hocus Pocus, Mark Curtis, the Insect Circus Museum, Variety, Mark Grist and many more. The evening will culminate in a special one hour performance by Slightly Fat Features with their new variety show.
SATURDAY 7 – SUNDAY 8 JULY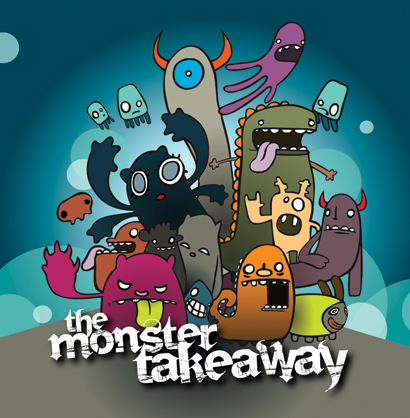 Central Park will be transformed into an open air venue for the finale of the festival. Among the acts to catch are Pif-Paf – with their bicycle-based flight and submarine simulators – as well as Circo Rum Ba Ba, who will be continuing the aquatic theme by bringing along a true-to-size 50 foot inflatable sperm whale. Inside – yes, actually inside – visitors will find a mermaid and a shipwrecked pirate, each with their own tale to tell. Elsewhere, there will be a tale of suspense and the bizarre presented by Les 3 Points de Suspension when the Grimox Brothers tell the story of Sophocles, The Still Unexplained Mystery of the Bodiless Philosopher. There's also George Orange, an eccentric clown and slack-rope dancer who claims to have come to Peterborough from Chicago, via the moon! If music is more your thing, then the up-and-coming and local Luke Ferrs will be playing in the park's Acoustic Tent on the Saturday, while the roots-rock trio The Huxleys will close things on the Sunday evening with their own compositions ranging from foot-stomping slide guitar anthems to gut-wrenching power ballads. Elsewhere in Central Park, there will be prose and poetry in the Live Literature Tent – watch out for local rappers and poets battling it out on the Saturday afternoon – and younger festival goers will be splendidly entertained by The Two Steves Unplugged in the Children's Tent. They'll be holding three sessions throughout the day. There's also the opportunity to design your very own custom monster with the Monster Take Away – find out what that's all about in the Arts Zone section of the park. On the Main Stage, Hard-Fi will be headlining Saturday evening with their ska-tinged hits to their Peterborough fans, while the Sunday finale is a three-hour performance by Orchestra Da Camera, the UK's most senior chamber orchestra, playing music from all over Britain in commemoration of the Queen's Jubilee and the Olympics. All Central Park entertainment and activities are completely free throughout the weekend.
These are just some of the choice highlights of what promises to be an incredibly varied celebration of arts and entertainment that will make the city and its residents proud. Look out for the Arts Festival brochures listing everything else that is going on or visit the dedicated Festival website on www.peterboroughfestival.co.uk, and start making space in your diary now to fit it all in.
Leave a Reply