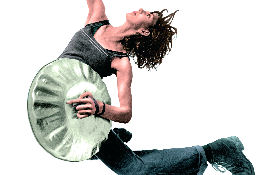 STOMP – the British theatrical sensation that has become a truly global phenomenon returns to Cambridge in March 2012.
With brand new routines, new choreography and new music the show is now fresher, faster and funnier than ever!
If you have never experienced STOMP then this is your chance to see why this breath-taking show thrills audiences around the world. With its unique combination of theatre, dance, comedy and percussion eight performers use boots, bins, brooms and everything including the kitchen sink to hammer out an explosively feel good rhythm.
"Pure stage magic, you'll be dancing in your seats" – Sunday Telegraph
"Exhilarating, entrancing, terrific" – The Independent
"If you haven't seen STOMP, go! If you have seen it, take someone who hasn't and share the pleasure" – Boston Herald
Show times and prices:
Tuesday 13 March 7.30PM Tickets: £23.50/£20/£15
Wednesday 14 March 2.30PM Tickets: £20.50/£17/£14.50
Wednesday 14 March 7.30PM Tickets: £23.50/£20/£15
Thursday 15 March 7.30PM Tickets: £23.50/£20/£15
Friday 16 March 5.00PM Tickets: £20.50/£17/£14.50
Friday 16 March 8.30PM Tickets: £26.50/£22.50/£19.50
Saturday 17 March 2.30PM Tickets: £20.50/£17/£14.50
Saturday 17 March 7.30PM Tickets: £26.50/£22.50/£19.50
Concessions:
Groups 10+ – 10% off*
Groups 20+ – 20% off*
OAP/Students/U16 – £14.50*
Family Ticket – £60*
*All tickets subject to a £2 credit/debit card fee per ticket
To find out more visit: http://www.cornex.co.uk/ccm/cornex/2012/stomp.en or call 01223 357851
Leave a Reply