Book Your Tickets Early For Festive Fun At The Nene Valley Railway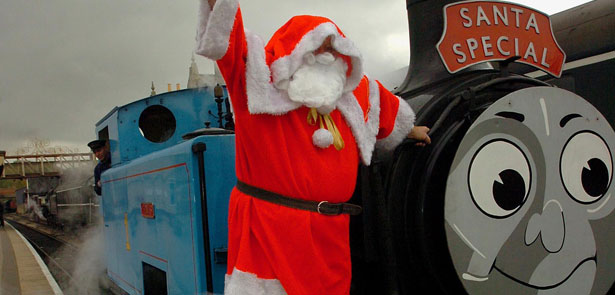 Father Christmas is as usual taking some time out of his busy Pre-Christmas schedule to visit the Nene Valley Railway
Throughout the month of December the NVR will be running their ever popular Santa-Specials where little boys and girls will get a ride on the train and meet Father Christmas. Those who have been good all year will go home with an age appropriate present. Mums and dads haven't been forgotten, they'll get a mince pie and a glass of something a little stronger than orange squash to wash it down with.
The Nene Valley railway Santa Specials Run from the 24th November until Christmas Eve.
Prices range between £11.50 and £22 depending on the date and whether Classic or 1st Class is selected.
Pre-booking is essential call 01708 784444 or look on our website www.nvr.org.uk We are located a few miles from Peterborough and only a few hundred yards away from the A1 at Stibbington/Wansford
Leave a Reply