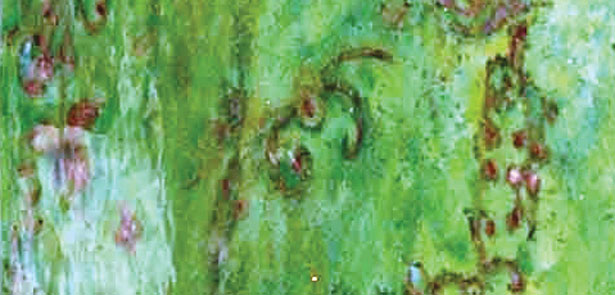 We put the spotlight on local artist Faye Gagel-Panchal and her passion for colour and eastern design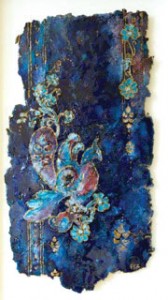 Beautiful design and rich colour have come to distinguish the work of fine artist Faye Gagel-Panchal (BA Hons. Fine Art Printmaking). Her increasingly collected and commissioned mixed media Sari Panels, inspired by Asian textile design, reveal a profound understanding of her art and its aesthetic. They are particularly unique and are borne of nature and palettes in sunnier climes, the love of cultural diversity and a high level of artistic and design skill nurtured and perfected over the last 30 years. These Sari Panels, their designs, colours, textures and the wonderful almost edible glaze I find truly stunning. There is something quite erudite about them yet at the same time universally appealing.
I research all my designs from original textiles or in archives. Each Sari Panel or Fragment is worked on intensely over a period of time, layer after layer of handmade Thai paper, paints and other mediums which produce a richly textured image of intricate Sari beadwork. Then I apply a resin which creates a wonderful glaze. Although I have created this process myself, the mediums and layers also have a mind of their own which makes the finished work even more exciting. I create but the medium also gets to speak for itself.
Faye explains,
Faye remembers even as a small child, living in Hawaii then moving to California, her fascination with Eastern design and the vibrant colours of her environment.
My father had been in the Far East and I was surrounded by the most wonderful Japanese print books. We also had lovely richly coloured Turkish rugs. There was beauty in all this but also adventure and excitement. Father would regularly relate his tales of India: the heat, the horse riding, running over boa constrictors with his motorbike. Where we lived, in the tropics on the islands of Guam and Hawaii, the frogs for example were bright green and houses were covered in deep alarizon crimson Bouganvilla and Hibiscus grew everywhere. I remember going on a boat trip to the Philippines, riding on a buffalo and then arriving in Hong Kong I was struck by the beauty of brightly coloured Japanese textiles in the markets. These sights and experiences have been so influential for my art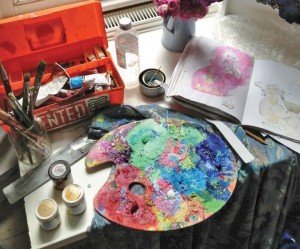 Artistic expression was a normal way of life for Faye as her mother and sister were also artists.
My first recognisable drawing was of an owl at the age of 2. I'd never seen an owl, it was in one of my books. My Mum who had learnt Haute Couture taught me how to sew and make patterns. We had no TV until I was 12, so there was a lot of drawing and creative activity. I was always surrounded by Mum's paintings. She was such an inspiration. When we moved to England, I remember my trips with her to ceramic workshops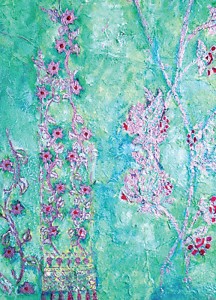 The family then moved to Scotland. Interestingly Faye's schooling there was very traditional and Art featured as a non-certificate subject. However so marked was her ability that she was encouraged by the art teacher to pass a Higher in one year. She went onto to complete an Art Foundation at Harrow where she started her creative and somewhat technical journey into print making. She studied Printmaking at Kingston University gaining a profound knowledge and love for its science: lithography; screen printing; etching; lino and woodcuts; mezzo tinting; photo etching.
I was amazed to learn that my Dutch Grandfather actually devised colour separation with lithography for a commercial master printer way back and I really believe that I have inherited this same fascination for the technicalities of printmaking
Faye decided to become a freelance artist and held regular exhibitions with her mother building up a reliable and appreciative client base in Scotland. However she soon became uninspired, painting flowers and landscapes to popular demand. And so emerged Faye's second vocation: Community Education work. During her student years she had witnessed with concern the drug abuse of close friends and now wanted to do something about it. Having qualified, Faye became a Senior Community Education worker in Aberdeen incorporating art into adult education programmes. She moved to Peterborough in 2001 with her husband and twin boys.
Community work had become quite stressful and now with my two boys I had to stop. I resumed painting
In 2003 Faye was offered a dream job, Product Designer with TLM Trading, the commercial product strand of the Leprosy Mission which fused community work in developing countries with art and design. This was the ultimate fusion of two passions.
These were truly happy times for me as I could use all the skills I loved. I travelled to India and worked with groups of highly skilled artisans: weavers, carvers, embroiderers, textile printers. I adapted and created designs with them for the European market. I must have designed 160 products or so, all ethically traded: quilts, runners, bags, wood products and gardening items. It was a great feeling to know that my products were being liked and bought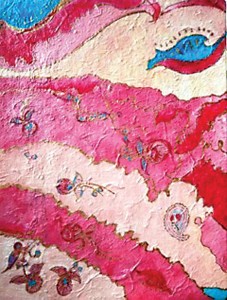 Faye was unfortunately made redundant but has recently been contracted as a freelance artist to design products for Tearfund. Although Faye is still involved in voluntary community work using art therapy and her counselling skills she has been able to resume quite an intense art career in Peterborough exhibiting here regularly since 2005 including the Open Studios. In addition to the Sari Panel series, Faye has embarked on the Inspirations V&A Panel Series produced from her sketches of oriental design exhibited and archived in the V&A Museum. She has also started research on the Oxburgh Hall tapestry designs by Mary Queen of Scots, from which she will create other exquisite panels.
View Faye's work at her home studio with no obligation 01733 751832 07795436454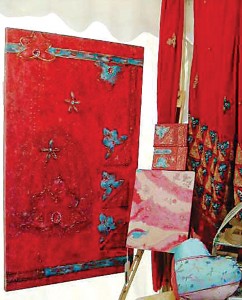 Leave a Reply