Cathedral Square: A Torch of Class!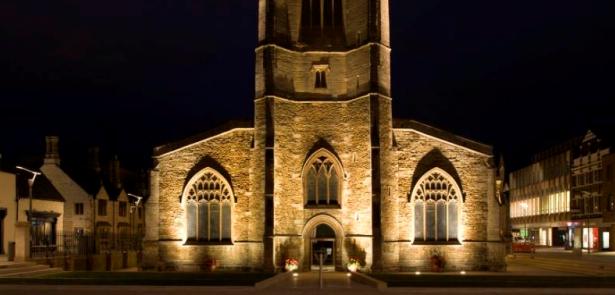 Peterborough's Cathedral Square has won a prestigious national award for its lighting design
The multi-million pound regeneration scheme, which includes Cathedral Square and St. John's Square, scooped first place in the exterior lighting category at the 2012 Lighting Design Awards
The project fought off stiff competition from five other shortlisted schemes and was praised by the judges for being dramatic, considered and socially responsible.
In their review of the project the judges described Cathedral Square's lighting design as
an elegant, considered lighting solution that encourages public use but doesn't overpower the space.
Michael Grubb, director at Sutton Vane Associates, the lighting consultancy which designed the scheme, said:
The Cathedral Square scheme integrates the lighting of public and private buildings to create an inviting space that includes a water feature lit by colour-changing LEDs, and warm, even, white light reflected from the facades of heritage buildings.
Michael, who was named Lighting Designer of the Year at the ceremony, continues:
We're thrilled to have collected this prestigious award. We worked hard to ensure the lighting enhanced the project's design and complimented the surrounding space – and it really paid off.
Steve Bowyer, head of economic development at Opportunity Peterborough, the company that initiated the regeneration of Cathedral Square, said:
This is a fantastic accolade and well deserved. Cathedral Square has been a great success for Peterborough, attracting new investment to the heart of the city. The Square is enjoyed by residents and visitors of all ages and, particularly when lit at night, is stunning.
Cllr Janet Goodwin, cabinet adviser to the Leader at Peterborough City Council, said:
This award is testament to all the hard work that went into creating such a spectacular space for Peterborough residents. We're very proud of our city centre and delighted to receive this award.
Photography:
Lighting Design by Sutton Vane Associates, London.
Photograph by James Newton
Leave a Reply