Peterborough Museum Becomes The 'Place to Be' For Antony Gormley Sculpture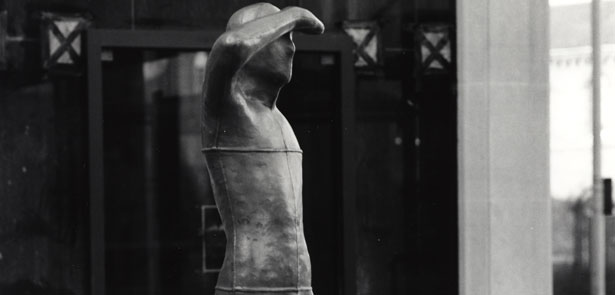 Antony Gormley is one of the best known and most popular British sculptors working today. He has shown extensively throughout the world and is probably best known for his sculpture Angel of the North in Gateshead and Another Place at Crosby Beach in Merseyside
As a result of remarkable foresight from Peterborough Development Corporation back in the 1980's, Peterborough owns its own Antony Gormley Sculpture – Place to Be, a series of three life-size sculptures modelled on the artists own body. After months in storage, the sculpture is due to go on display at Peterborough Museum from 1st October to early January 2013 before touring to other locations throughout the country.
The sculptures; once situated at Monkstone House and then at Thorpe Meadows, were unfortunately subject to significant vandalism which resulted in the arms to one sculpture being broken off. The sculptures have recently received considerable conservation work to their surface as part of a phased approach to restoring them to their former glory. The ambition is to work with artist to both remodel the missing arms and identify a safe and permanent location for the sculptures to enable enjoyment by future generations.
Whilst the longer term ambitions are navigated, Peterborough Sculpture Trust and Vivacity Culture and Leisure Trust are working together to ensure that the sculpture is available for viewing by the general public by introducing a tour of indoor venues.
Place to Be is one of a portfolio of 26 sculptures managed by Peterborough Sculpture Trust, in partnership with Vivacity Culture and Leisure Trust. The collection features sculptures by major British artists from 1978 and 1988 most of which are on display across the city.
Chris Mardell, chair of Peterborough Sculpture Trust is delighted that the sculptures are back on public display.
Antony Gormley has played a major role in the development of contemporary British sculpture and the Sculpture Trust is very proud to have one of his sculptures in its collection. We were devastated when the work was vandalised and had to be removed from public viewing. However, we are delighted to be working with Vivacity to both exhibit the work once again and forge ahead with its restoration programme and permanent re-siting
The sculptures will go on display from 1st October 2012 until the New Year at the Museum, which is open daily and free admission (closed to the public on Monday's).
For further details of Place to Be, please visit www.vivacity-peterborough.com or call Peterborough Museum on 01733 864 663.
For further details of the sculpture collection please visit www.peterboroughsculpture.org or email

Leave a Reply